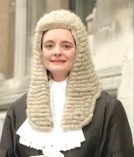 Cherie Blair has criticised Muslim religious dress for women where it fails to acknowledge "the woman's right to be a person." The wife of former Prime Minister Tony Blair warned against the full-face veil, or niqab, worn by strictly Islamic women worldwide because it could prevent a woman from expressing her personality.
Mrs Blair, a practising Roman Catholic who is to publish her own memoirs in October next year, admitted that she had herself been educated by Catholic nuns who wore veils. She said she had no problem with women covering their heads. But on Islamic veils, she said: "I think however, that if you get to the stage where a woman is not able to express her personality because we cannot see her face, then we do have to ask whether this is something that is actually acknowledging the woman's right to be a person."
Mrs Blair's own Church forbids the ordination of women, forbids women from using condoms even when their husband has been infected by HIV while working away, and denies the sacrament of communion to women who are divorced and remarried without an annulment, even when a woman's first marriage has broken down because of abandonment for a younger woman by their husband.
She nevertheless focused her criticisms on Islamic countries. She said the laws on divorce and custody of children remained unfair to women in many Islamic countries, such as Egypt. "I think the facts speak for themselves," she said.