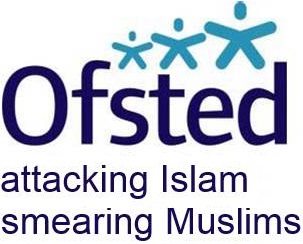 The head teacher of the Church of England school in east London at the centre of a fresh controversy over alleged Islamic extremism, has expressed surprise at the Ofsted inspection findings that sent his school into special measures.
The Sir John Cass Foundation and Red Coat Church of England secondary, and a group of independent Muslim faith schools in Tower Hamlets, will be criticised by Ofsted over safeguarding concerns, following snap visits by the schools inspectorate in the wake of the "Trojan horse" affair in Birmingham.
The only maintained school involved, Sir John Cass, in Stepney, is to be downgraded from outstanding to Ofsted's lowest rating of inadequate, primarily over Facebook activity by sixth formers linked to extremist material, and existing segregation between boys and girls in school areas.
Haydn Evans, the school's headteacher since 1995, said: "We are surprised by the outcome of the Ofsted inspection, as we have always taken safeguarding very seriously. The teaching and results of this school remain good, which they have been since 1999, and my priority now is to address the issues that have been identified and work closely with the local authority and the diocese to return the school as quickly as possible to an outstanding school."
The school's trustee, the Sir John Cass Foundation, said it was greatly concerned by the inspection result. "We remain committed to addressing the leadership, management and safeguarding issues raised in the report and will in future weeks be assessing necessary action to return the school to an outstanding rating," said Tony Mullee, its chief executive.
Kenny Frederick, a former headteacher at George Green's secondary school, in Tower Hamlets, who retired last year, said Ofsted's intervention at Sir John Cass appeared politically motivated and was at risk of doing more harm than good.
She said: "It's a witch-hunt. It's absolutely appalling. It's a good school with a good track record. Parents, kids and staff will be up in arms. It's not a hotbed of radicalism. The governors don't want to take over the school.
"To put a school in special measures … what that does to a school and the community will only be negative. People will feel resentful. All we are going to do is alienate. If I was one of the kids, it would not be doing anything for my British values."
Mark Keary, headteacher at Bethnal Green academy, Tower Hamlets, said colleagues in the borough were distressed by the news about the Sir John Cass school. "We know what a strong school this has been. I've been in this borough since 2006 and what Haydn Evans has done since 1995 is quite extraordinary. He's taken it from one of the worst schools in London into an absolute beacon of academic excellence. It's a sensational school and Haydn has been a role model to us all."
Ofsted is to publish the inspection reports of the schools, along with a letter of advice to the education secretary, Nicky Morgan, on Friday.. The Department for Education is expected to respond to Sir Michael Wilshaw, Ofsted's chief inspector.
The independent Muslim schools have complained that abrupt changes in policy and incomplete guidance on controversial issues such as British values and radicalisation has made it impossible to meet Ofsted and government guidelines.
Representatives for the independent schools argue that they were given little or no time to keep up with the shifts in policy imposed after investigations into the Trojan horse affair in Birmingham this summer, which was concerned with allegations of exposure of pupils to extremism and of failure to integrate communities with mainstream society.
"They did not give schools sufficient guidance on British values and how to combat extremism, and waited to find them making mistakes," said one school leader. "They changed things every month from May and hoped schools would be ready by October."
The government's guidelines on spiritual, moral, social and cultural development for independent schools came into force on 29 September, while the Tower Hamlets schools were inspected under the guidelines in October. Several are criticised as failing under the guidelines, such as not dealing with allegedly extremist leaflets in mosques associated with some of the schools.
The fee-paying schools, including two affiliated with Whitechapel's East London mosque, the Al Mizan primary, and the East London academy secondary, will be required to produce an action plan to remedy their safeguarding problems.
Robert McCulloch-Graham, director of education and children services for Tower Hamlets, said the council had invited independent schools in the borough to attend safeguarding courses but none had taken up the offer. "I'm sure that's not going to be the case now," he said.
He said the council's powers over independent schools were strictly limited and depended on the schools' co-operation.
He added: "Ofsted have informed us they have inspected six [schools] and have safeguarding concerns in those. But now they have done that, they will pass that information to us in the form of the inspection reports, we will then make an approach to the schools to address those safeguarding concerns with them.
"The way we look at it, the kids that they educate are our kids. We've got responsibility for every child in the borough, regardless of whether they are educated in the mainstream or private sector, when it comes to safeguarding.
"We would be offering advice and guidance – if the schools refuse to take that up ultimately it's the secretary of state [for education whom] they have to answer to. The powers to close the schools lies with the secretary of state."