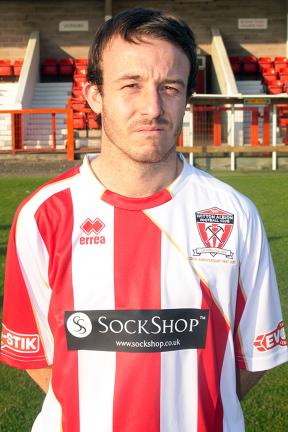 Shaun Tuck, scorer of a decisive goal for Witton Albion on his return to action at the weekend, will not be sacked after spending part of the summer in prison.
The striker left jail in Merseyside a fortnight ago after serving half of a three-month sentence as punishment for writing malicious messages on the Internet in the hours following Drummer Lee Rigby's murder in London. He has written an apology published today, Monday, and addressed to "everybody at the club".
"It has always been up to Shaun to demonstrate he is truly sorry for his actions earlier in the summer and the shame this brought on himself, his family and the football club," said chairman Mark Harris. "Witton Albion are giving him the chance to demonstrate that he has learned a tough lesson in life."
In a statement, the club added that it has imposed a series of disciplinary measures. The nature of those will be kept secret, and will be acted upon regardless of whether the Football Association decides to impose its own sanction. To date the game's governing body has been silent, at least publically, on the issue. Manager Brian Pritchard urged the FA this week to act, saying it was unfair for the club to be kept waiting.
Tuck, 27, came off the bench in the second half of Saturday's Evo-Stik Northern Premier League encounter with King's Lynn Town at Wincham Park. He netted a close contest's winning goal with three minutes of the match to play.
Northwich Guardian, 2 September 2013
In his apology Tuck states: "I am not a racist, I am not a follower of the English Defence League and don't agree with their views."
This from the man who tweeted "Go f**king nuts!!! About time this country fought back. EDL are in Woolwich now!! What I'd give to be there with them now", accompanied by the hashtag "#curryheadseverywhere".