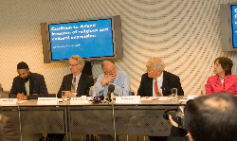 Political figures, religious leaders, trade unionists and human rights campaigners are amongst the individuals that have signed up to a new coalition aimed at defending freedom of religious and cultural expression.
Speakers at the launch included the Mayor of London; peace campaigner and activist Bruce Kent; writer Ismail Patel from the British Muslim Initiative; Dr Daud Abdullah, Deputy General Secretary, Muslim Council of Britain; Edie Friedman, Director, Jewish Council for Racial Equality; Andrew Stunell MP; and Steve Sinnott, National Union of Teachers.
The coalition is being set up in the light of continuing media and other claims that different communities and faith groups openly expressing their culture or faith threaten community relations in Britain. Such claims have been most recently and strongly directed at the Muslim community, particularly focusing on the right of Muslim women to wear the veil.
A Greater London Authority commissioned report into Islamophobia in the media showed that 90 per cent of reports on Islam were negative. However, the majority of Londoners – 94 per cent – support freedom of thought, conscience, speech and religion.
The coalition will put the case that that multiculturalism, especially in London, enriches society and that division will flow from repression of these rights, not their expression. And that it is necessary for individuals and different communities to come to gether to defend freedom of religious and cultural though that have been established over hundreds of years.
The Mayor of London Ken Livingstone said: "I am proud of London's reputation as the most diverse city in the world where the contribution all communities is celebrated and people's freedom of religious expression is respected as it is one of the most essential of our civil liberties. Attacks on the rights of Muslim people to express their faith as they choose are ultimately a threat to everybody's rights to freedom of religious and cultural expression."
GLA press release, 6 June 2007
See also British Muslim Initiative website.