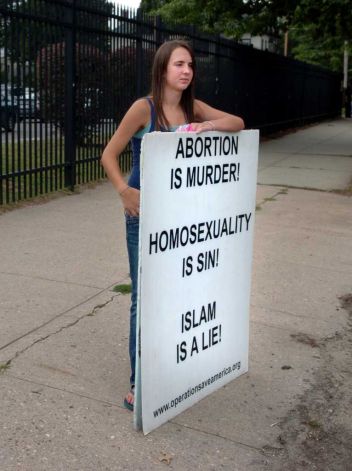 BRIDGEPORT — About a dozen right-wing Christians, carrying placards and yelling "Islam is a lie," angrily confronted worshippers outside a Fairfield Avenue mosque Friday.
"Jesus hates Muslims," they screamed at worshippers arriving at the Masjid An-Noor mosque to prepare for the holy week of Ramadan. One protester shoved a placard at a group of young children leaving the mosque. "Murderers," he shouted.
Flip Benham, of Dallas, Texas, organizer of the protest, was yelling at the worshippers with a bullhorn. "This is a war in America and we are taking it to the mosques around the country," he said.
Mustafa Salahuddin, an Ansonia police officer and parishioner at the mosque, calmly watched the protesters from the mosque's parking area. "This is unfortunate, but it's a free country," he commented on the protest. "But I believe Jesus would have been appalled by this."
Connecticut Post, 6 August 2010
Via LoonWatch