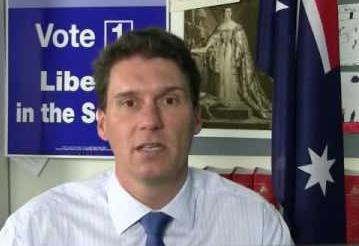 Controversial Dutch politician Geert Wilders is coming to Australia with the support of senior Liberal senator Cory Bernardi.
Mr Wilders, who controls the balance of power in the Netherlands' parliament, has outraged Dutch Muslims by comparing the Koran to Hitler's Mein Kampf and calling the Prophet Muhammad a paedophile.
In a statement to Foreign Correspondent, Senator Bernardi confirmed he has offered to help arrange meetings and a schedule for Mr Wilders in Australia. "I hope to be able within … this year, or maybe the beginning of next year, to visit Australia," Mr Wilders said.
"I met one of your senators, Senator Cory Bernardi, not so long ago. He invited me to help him at least when I would visit Australia, and I will certainly do that as soon as I can. We all face immigration also from people from Islamic countries. We all see that, for instance, that is something that Senator Bernardi and now I believe also others in Australia is fighting against."
Senator Bernardi's approach is in marked contrast to Britain, where in 2009 the home secretary tried to ban Mr Wilders as an undesirable person.
See also the Herald Sun, which reports Bernardi as saying of Wilders: "I think he's got an important message to heed. Any rejection … of Mr Wilders' attempt to come to this country would be a tacit admission that extremism or fundamentalism are already dominating public discourse."
Victorian Labor MP Rob Mitchell is quoted as saying: "Australia is no place for a freak show; Geert can take his views back to the gutter he got them from."
Parliamentary Secretary for Immigration Kate Lundy called for opposition leader Tony Abbott to "clarify if he supports his parliamentary secretary bringing out such a divisive figure and promoting his extreme views".