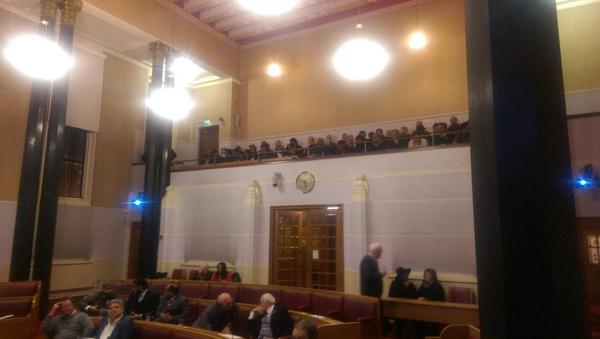 Councillors have given the go‑ahead for controversial plans to build a new mosque on a site overlooking Dudley town centre.
The plans have polarised opinion in the area around the Hall Street site of the new building, which will also provide a sports and community centre plus a centre for education and training.
Tonight's meeting of the council's development control committee was, unusually, held in the council chamber at Dudley Council House to accommodate the number of people who wanted to hear the debate about the latest application for a mosque.
In front of a packed public gallery [see picture], Cllr Shaukat Ali, who spoke as a supporter of the plan, told committee members: "I understand the pressure on members of the committee but, as elected members we should rise above controversy and look at the issues objectively."
Cllr Ali added the plans before the committee were much improved compared to designs rejected by the authority in 2011. He said: "The community just wants to practice its religion and social life peacefully and in appropriate facilities."
Former councillor Tim Wright spoke against the proposal, which was recommended for approval by council planning officers who said the design was of sufficiently high quality to ensure it had a positive impact on the surrounding area. Mr Wright said: "It is going to change the face of Dudley, it does not fit the heritage of Dudley."
Committee member and former Conservative leader of Dudley, Cllr David Caunt, also voiced concerns. He said: "On balance the proposal does not show clear understanding of the historic character and distinctiveness of the centre of Dudley."
Committee chairman, Cllr Qadar Zada's comments were greeted with cheers from the public gallery which was packed with mosque supporters. He said: "No-one has said much more than just about the mosque, very few times have I heard about the enterprise and training centre in one of the most deprived wards in Dudley."
Cllr Zada went on to quote Nelson Mandela's views on sport uniting communities before adding: "This is an ideal opportunity, I would like to see something that looks much more than a rat-infested, derelict building and bring forward something that will unite communities."
Committee members voted by five to three in favour of the new building which will include a domed roof of 16 metres in height and a 19 metre high minaret.
After the meeting disappointed objectors spoke of their fears the new development would do nothing to help community relations. Michael Forsyth, aged 72, who lives near the site in Buffery Road, said: "It won't bring people together, if it happens it will cause problems – I think it will go off."
---
Half a dozen members of the far-right group Britain First gathered outside Dudley Council House to harangue and abuse Muslim supporters of the mosque plan as they left the meeting. As Tell Mama points out, Britain First made public threats to desecrate the grounds of the proposed place of worship.
Deputy leader Jayda Fransen shouted at mosque supporters: "You guys won't get your mega mosque if we bury a pig on the grounds of it. Let's see you worship upon ground that is infested with swine, eh? You are going to stand on swine infested ground and worship your false prophet are you?"
Fransen concluded by telling mosque supporters: "For ever Muslim who voted for this, we'll bury the same number of pigs on your grounds."
In another video, Britain First leader Paul Golding makes the same threat: "We will find out where this mega-mosque is going to be built and we will bury a pig right in the ground." East Midlands organiser Archie James concurs: "That's the only way to stop it."
In 2010 an English Defence League supporter named Kevin Smith received an 8-week suspended prison sentence after being convicted of religiously aggravated intentional harassment for placing a pig's head outside the present Dudley mosque.
Update:  See "Britain First extremists plot pig burial to halt controversial Dudley mega mosque", IB Times, 11 November 2014