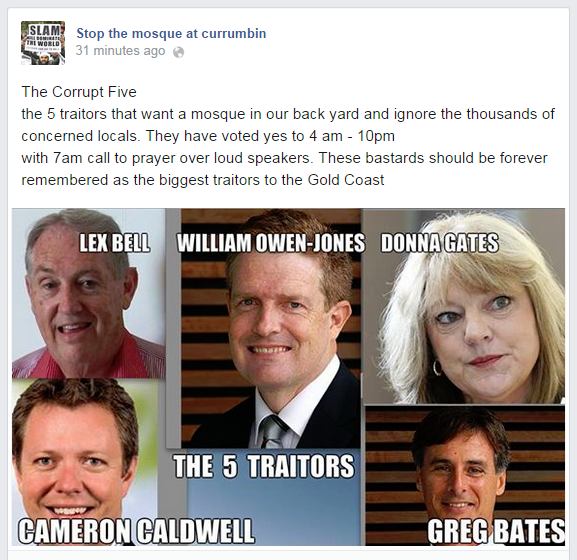 Far-right anti-mosque campaign whips up hatred against Currumbin councillors
Police are investigating death threats made against Gold Coast councillors who voted to support the controversial Currumbin mosque. Threatening phone messages were left at offices of northern Gold Coast councillors William Owen-Jones and Cameron Caldwell just after noon yesterday.
Police told the Bulletin the threats were of a "non-specific" nature but related to both councillors supporting the approval of the mosque at Wednesday's planning committee meeting. They were among five councillors who voted to support the project, including Lex Bell, Greg Betts and Donna Gates.
The Bulletin understands both councillors were interviewed by police late yesterday and Cr Owen-Jones has declined to make a complaint. It is understood the person suspected of making the threats is known to councillors but both Cr Owen-Jones and Cr Caldwell declined to comment.
Queensland Police confirmed threats had been made and said the investigation was ongoing. Threatening a public official is a crime in Queensland.
Currumbin councillor Chris Robbins, who voted against approving the mosque, has also been threatened.
Cr Bell, a former lawyer, called for calm and said threats of violence against councillors was inappropriate and uncalled for. "I understand people are upset but they should control themselves," he said.
Wednesday's council meeting was marred by a radical anti-­Islamic protest at Evandale which city and community leaders dismissed as a "redneck" movement.
Yesterday's threats came after weeks of abuse hurled at Cr Robbins while the controversial development was under public discussion. Cr Robbins said she had received threats of gang-rape and murder from anonymous opponents.