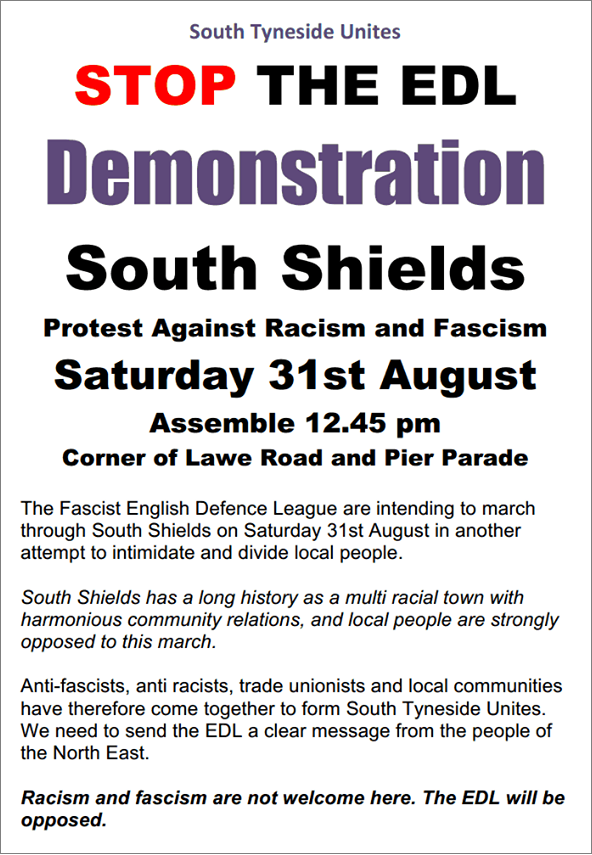 An anti-fascist group has announced plans for a counter-demonstration against a march by right-wing extremists in South Shields this weekend.
Members of North East Infidels (NEI) and the English Defence League (EDL) are to parade on Saturday from the town's Fowler Street to Pier Parade, where a rally is to be staged.
Now it has emerged they will be met there by representatives of newly-formed South Tyneside Unites Against Fascism (STUAF), a group set up specifically in response to the rally. Their members are made up of local people, trade unionists and political groups and organisations opposed to fascism, racism and Islamophobia.
The counter-protesters, supported by South Tyneside Trade Union Council, and including members of Unite and Unison, will hold up placards and express their views through megaphones in what organisers say will be a "peaceful and orderly counter-demonstration".
Meanwhile, it has emerged that EDL members plan to meet up at a town centre pub three hours before the rally. The organisation's Facebook page is inviting supporters to gather at The Scotia pub in Ocean Road from 10am – with the rally expected to set off from Fowler Street at 1pm. A spokesman for the pub declined to comment on the venue as an EDL meeting place, but said the premises "would be open as normal".
Today, a spokesman for STUAF invited like-minded individuals to join them at the demonstration, on the junction of Lawe Road and Pier Parade, from 12.45pm. He labelled the EDL march as "provocative and divisive" and claimed it was "fostering disharmony and racism" in South Shields.
The spokesman added: "Although the march will not go through Ocean Road, it has been routed right around the centre of South Shields and is a serious provocation to the peace-loving minority communities who have for decades lived there in harmony with their neighbours.
"This is an area in which Catherine Cookson wrote some of her most famous novels, which reflect people's condemnation of racism and religious discrimination.
"This demonstration by the EDL goes against the whole democratic tradition and values of the people of South Tyneside and the North East, which uphold the rights of all people and their communities.
"In agreement with the police, South Tyneside Unites has organised a peaceful and orderly counter demonstration.
"Join us to show solidarity with our minority communities and send a clear message to the EDL that the people of South Tyneside and the North East will not accept the incitement of racial, or religious, hatred against our communities."
Northumbria Police is allowing the march to go ahead but it has been re-routed away from Ocean Road – the heart of the town's Muslim community.
Chief Superintendent Ian Dawes, of South Shields police, has pledged that "public safety is our absolute priority", adding: "Our aim at all times is to facilitate these events and ensure they pass off peacefully with the minimum of disruption."