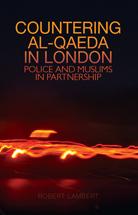 Countering Al-Qaeda in London: Police & Muslim Communities in Partnership (book launch and discussion)
Speaker: Robert Lambert
Friday 30 September, 6:45pm, at Abrar House, 45 Crawford Place, London W1H 4LP
Since the events of 9/11, the destruction of Al Qaeda became the main target of military, ideological and political efforts by numerous states and groups. However, little is known of the hard work at the grassroots level to counter its ideas and practices.
In this talk, the speaker presents an inside account of two pioneering projects in London where Muslim community groups worked in partnership with police to reduce the influence of Al Qaeda-inspired terrorism. One project empowered London Muslims to remove Abu Hamza and his violent hard-core supporters from Finsbury Park Mosque, while the other project bolstered long-term efforts by London Muslims in Brixton to challenge and reduce the influence of Al Qaeda inspired violent extremists including Abu Qatada and Abdullah el-Faisal.
The speaker will discuss how the two projects serve as exemplars for future community-based counter-terrorism projects that recognise that the hand of central government can often be counter-productive when countering the influence of Al Qaeda: not least when the UK is waging war in Muslim countries.
Robert Lambert is an academic with a police career in counter-terrorism. In the aftermath of 9/11 he established the Muslim Contact Unit to work empathetically and in partnership with London Muslims. For the bulk of his police service (1977-2007) Lambert worked in counter-terrorism. In June 2008 he was awarded an MBE for his police service.
Free entrance. All welcome.
For more information please contact Sid (sid@thecitycircle.com or 07786212486)