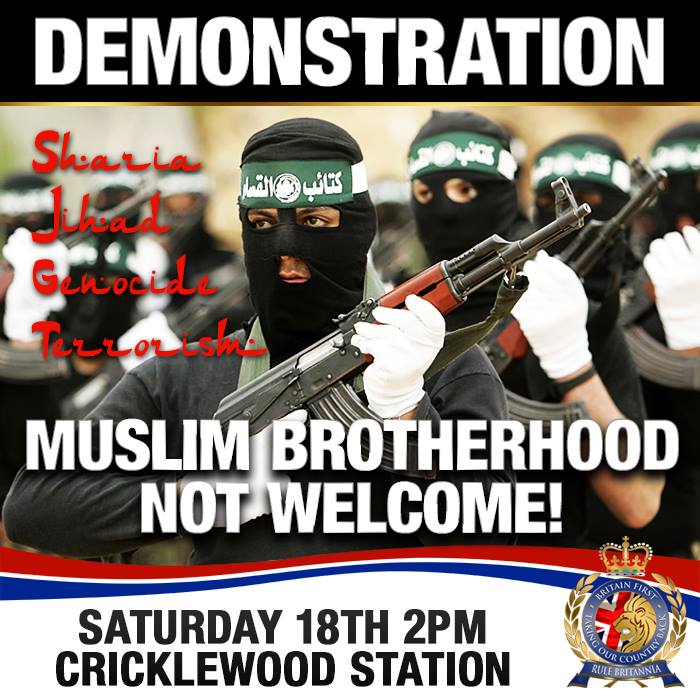 A far-right organisation is planning to hold a protest outside the headquarters of a major Egyptian political group in Cricklewood on Saturday.
Members of Britain First (BF) plan to march into the borough following revelations that Muslim Brotherhood (MB) are operating from a flat above shops in Cricklewood Broadway.
MB was a praised political group in Egypt but were ousted from power amid popular demonstrations. They are believed to be launching a fight-back against Egypt's military rulers from their new home.
BF, which was registered as a political party in 2011, campaigns against Islam, immigration and abortion. It was founded by Jim Dowson, a former fundraiser for the BNP, and its members includes several ex-BNP stalwarts.
The group, which has links to the British National Party, are calling for people to join them in a statement posted on their website and Facebook page.
It says: "We want to show them they are NOT welcome here in the UK! Come and stand with us and show the jihadists that they can leave our fair country and go back to their own country and spread death and hatred! All sensible patriots welcome, please bring British flags. See you there!"
Brent Police are aware of the BF's plans and in an email sent to residents which has been seen by the Times they said they would develop an 'appropriate policing response'. Brent Police failed to comment when contacted by the Times.
Brent & Kilburn Times, 16 January 2013
---
Typically, the inspiration for this fascist protest came the mainstream right-wing press – in this case from a report in the Daily Mail which suggested, entirely falsely, that the Brotherhood was implicated in the 1981 assassination of Egyptian president Anwar Sadat.
Britain First informs its supporters that the Brotherhood, an organisation committed to peaceful political reform, is "a fundamentalist, terrorist, jihadist group that has recently been booted out of Egypt for committing genocide against Christians and non-Muslims".
Not that accuracy is Britain First's strong point. You'll note that a demonstration against the Egyptian Muslim Brotherhood, an organisation that renounced armed struggle decades ago, is illustrated with a picture of fighters from the Al Qassam Brigades, the military wing of the Palestinian organisation Hamas. Apparently Britain First can't tell the difference.
Update:  See "Unite Against Fascism to hold counter demonstration against Britain First march in Cricklewood tomorrow", Brent & Kilburn Times, 17 January 2013
Update 2:  See "Britain First anti-Brotherhood protest outnumbered by counter-demonstrators", Islamophobia Watch, 18 January 2014