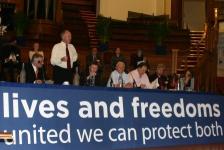 On the day the government published its anti-terrorism bill, a broad cross-party coalition met to challenge a number of the government's proposals.
The coalition says that the concessions announced by the government do not go far enough so that in its present form the legislation will not command the cross party and cross community consensus which is essential for it to be successful.
The coalition brings together the Mayor of London, the Scottish National Party, the Liberal Democrats, Labour MPs, the Green Party, major trade unions, Liberty, lawyers, the main Muslim organisations, Sikhs, Christians, the peace movement and many others.
The coalition held its first meeting on Wednesday 12 October, at Central Hall Westminster with one of the broadest platforms ever brought together around a single issue. Around one thousand people attended the meeting.