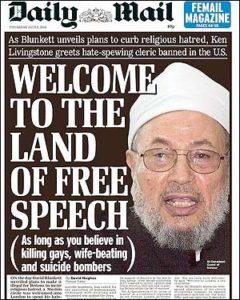 Cleric who backs child bombers is to visit Britain
By Fiona Macrae
Daily Mail, 7 July 2004
A RADICAL Muslim cleric who supports children taking part in suicide bombings is to visit Britain.
Dr Yusuf al-Qaradawi will be guest of honour at a conference to be opened by London mayor Ken Livingstone. Al-Qaradawi, who has been banned from the U.S. since 1999, is due to speak at the conference, hosted by a Muslim women's group, in the capital on Monday.
The Foreign Office said Foreign Secretary Jack Straw had granted his visa. All applicants had to satisfy set criteria, a spokesman said.
Al-Qaradawi, the spiritual leader of the Egyptian terror group the Moslem Brotherhood Association, has declared suicide bombing as 'commendable'. He has lauded Palestinian martyr bombers as being 'among the greatest form of holy struggle against oppression'. And when asked about children launching suicide attacks, he said: 'The Israelis might have nuclear bombs but we have the children bomb and these human bombs must continue until liberation.' He also recently defended the Iraqi militants who beheaded American hostage Nicholas Berg, saying the murder had been 'in the right context'.
He has, however, condemned the September 11 attacks and the Bali bombing.
His imminent arrival has infuriated MPs, who are calling for him to be banned from Britain. Last night, Tory home affairs spokesman David Davis said: 'In my view people who support suicide bombers should not be given leave to enter the country.'
He also criticised Mr Livingstone for giving the cleric, who lives in Qatar, 'the oxygen of publicity'. He went on: 'A democratic politician should not give this man credence by appearing on a platform with him.' Mr Livingstone was unavailable for comment last night.
Condoning wife-beating is among al-Qaradawi's other extremist views. He specifies a cane must not used and the woman's face must not be struck. He has also described homosexuality as a 'disease that needs a cure' and discussed whether that 'cure' should be death.
His 'repugnant' views have already led to a Labour minister pulling out of Monday's conference, to be hosted by the Muslim Women Society and to discuss such issues as Muslim women's clothing. Home Office minister Fiona Mactaggart will now send a taped message in support of women's rights.
Liverpool Labour MP Louise Ellman also wants him kept out of Britain. She said his visit would create 'enormous security problems at a very sensitive time'. She said al-Qaradawi was due in Britain 'over the next few days', adding: 'It would be quite wrong to allow this man on our shores.'
Inciting religious hatred could soon be a criminal offence, Home Secretary David Blunkett will announce today. The plans are the Government's latest attempt to tackle religious and political extremists. The new offence is likely to be modelled on the existing crime of inciting racial hatred, which carries a maximum penalty of seven years' imprisonment.