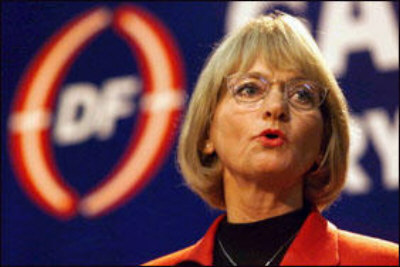 Pia Kjærsgaard, the leader for the Danish People's Party (Dansk Folkeparti – DF) has accepted an invitation from the far-right Sweden Democrats to take part in an election rally in Högänäs in southern Sweden on Saturday.
Kjærsgaard whose national conservative party has supported the Danish governing coalition of Liberal and Conservative parties since 2001, plans to visit Sweden to "experience the conditions of a Sweden election and to talk about democracy and freedom of speech", according to a party statement.
Kjærsgaard made headlines in some Danish and Swedish media when she criticised the Swedish press for "acting as if they were in a banana republic" following the refusal of broadcaster TV4 to send an election campaign film by the Sweden Democrats.
The controversial Danish politician does not make a habit of taking part in election campaigns in foreign countries and has previously resisted several pleas from the Sweden Democrats for help. "Mona Sahlin has demonised the Danish People's Party," said DF's press spokesperson Søren Søndergaard to news agency TT, by way of explanation for Kjærsgaard's change of stance.
Social Democrat leader Mona Sahlin is on record as saying Sweden risks going down Denmark's path if SD get into Sweden's parliament, the Riksdag, when the votes are counted on September 19th.
While DF do not hold any cabinet posts the party enjoys a close cooperation with the government parties on most issues, and has pushed through a restrictive policy line towards immigrants and potential refugees. The party claimed 13.9 percent of the votes in the 2007 parliamentary elections after a dramatic rise in support following the Muhammad cartoons controversy in 2006.
See also "UN says party made racist remarks", Copenhagen Post, 9 September 2010