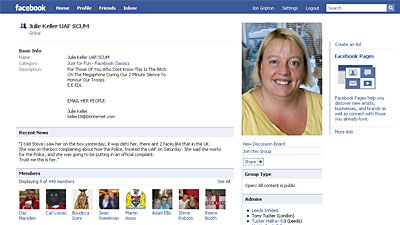 Police are guarding an anti-fascist campaigner who has received dozens of death threats following a right-wing rally in Manchester. Julie Keller has been wrongly accused of disrupting a two-minute silence in honour of UK troops and is now receiving police protection.
She is the target of a Facebook group entitled "Julie Keller UAF SCUM" which has published her home address and telephone number. Next to a picture of Mrs Keller, the website says: "For Those Of You Who Dont Know This Is The Bitch On The Megaphone During Our 2 Minute Silence To Honour Our Troops."
The webpage was set up by supporters of the English Defence League (EDL), a right-wing group that clashed with members of Unite Against Fascism (UAF) in the city's Piccadilly Gardens on Saturday. Greater Manchester Police officers are now watching Mrs Keller's home in Oldham.
"At the time of the EDL silence I was in a sushi bar having my lunch," she told Sky News. "I'm absolutely mortified. I'll stand up for the things I've done, but I've never been a member of the UAF. Enough is enough."
Unbowed by the onslaught, she has given Sky News permission to show the Facebook page.
Inspector Dave Stopford of Greater Manchester Police is investigating the postings which include threats to "set her on fire", "stab the slut" and the wish that she contracts cancer. "We are aware that a number of threats have been made," he said. "These threats have been made via telephone, email and via Facebook. "The victim has been spoken to by my officers and appropriate measures are in place to ensure her safety."
Mrs Keller, a mother of two and member of the anti-fascist group Searchlight, said she has had 96 death threats made against her online and has lost count of the phone calls she has received from right wing extremists. "People have been shouting abuse down the phone and sending emails, some of them very, very nasty."