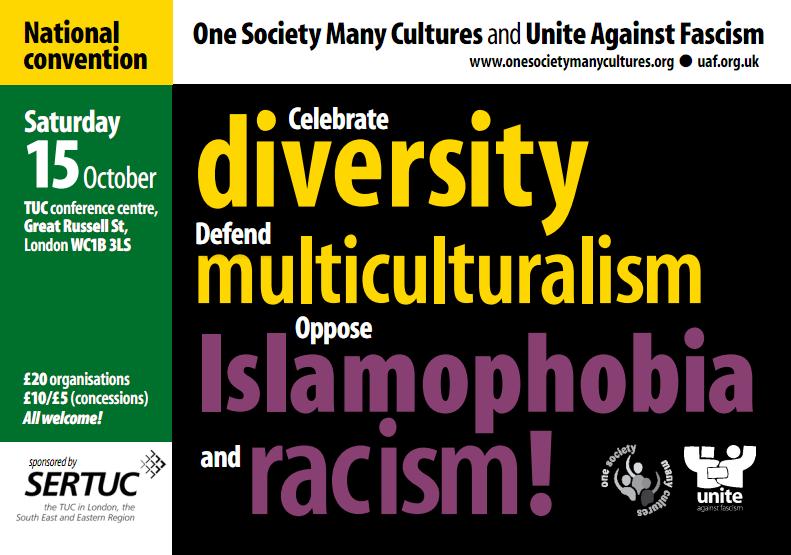 A huge range of speakers, including MPs, campaigners, writers and musicians is lined up for the one-day conference on defending multiculturalism on 15 October.
The event, titled Celebrate diversity, defend multiculturalism, oppose Islamophobia and racism, is organised by UAF and One Society Many Cultures and sponsored by SERTUC.
It is backed by the NUT, Unite, CWU, UCU and PCS trade unions, the Muslim Council of Britain and the NUS Black Students Campaign.
Speakers announced for the conference include Francis O'Grady TUC deputy general secretary, Kevin Courtney deputy general secretary NUT, Jack Dromey MP, Helen Goodman MP, Peter Hain MP,Claude Moraes MEP, Jean Lambert MEP, Farooq Murad secretary general, Muslim Council of Britain, Edie Friedman executive director, Jewish Council for Racial Equality, Michelle Stanistreet general secretary NUJ, Hugh Lanning deputy general secretary PCS, Steve Hart political director Unite, Megan Dobney regional secretary SERTUC, Zita Holbourne PCS NEC, Bob Lambert co-director European Muslim Research Centre, Jody McIntyre journalist, Peter Oborne journalist, Dilowar Khan director, London Muslim Centre, Alaa' Samarrai vice-president student affairs, Federation of Student Islamic Societies, Kanja Sesay NUS black students' officer, Nitin Sawney musician, Sabby Dhalu secretary One Society Many Cultures, Denis Fernando Lesbian and Gay Coalition Against Racism, Weyman Bennett joint secretary UAF, Martin Smith national co-ordinator, Love Music Hate Racism.
>> Go here to download the conference flyer
>> Read more about the conference
The event takes place at the TUC conference centre, Great Russell Street, London WC1B 3LS from 9.30am to 5pm on Saturday 15 October.