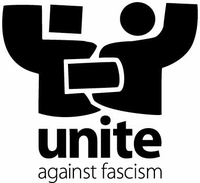 Unite Against Fascism (UAF) extends it's solidarity with all those who are subject to threats, intimidation and Islamophobia, from the publicity hungry, fascist sect, Britain First (BF).
The group say they plan to travel around Britain to promote their poison. This follows from when on May 10/11th, BF subjected mosque goers to an 'invasion', where Bibles were thrust into Muslims' hands. This was intimidation, and as ugly as BF's politics. Many were bewildered by BF members who went on to holler insults and behave menacingly.
UAF has been contacted by several people who had their place of worship threatened by these thugs. All told a similar story of how worshippers were left shaken by this unwarranted attempt to put fear into Muslim people. This is totally unacceptable.
Were such behaviour to happen at churches or synagogues, there would be rightly be a public outcry. So there should be, here. At Glasgow Central Mosque and at Cumbernauld Mosque, to their great credit, it was Muslims who calmed the BF thugs down!
BF are also, as Hitler did, telling big lies about their popularity. They claim to have had over 500,000 Likes on Social Media. The reality is rather different. Using a series of 'patriotic' images, not immediately linked to BF, they have amassed fake popularity behind such fake postings. Their membership is barely 100, far away from their claims.
WHO ARE BRITAIN FIRST?
Britain First came from a split from the equally fascist BNP. A sinister figure behind BF is Jim Dowson, former Bnp funder and longtime extremist. BF are aping the tactics of the EDL, in their aim to capitalise on Islamophobia. Their flash mob demonstrations and proposed 'tour' is reminiscent of past, brownshirted, stormtroopers. They are a tiny but provocative mob, intent on hitting their way into the headlines. Their aims and intentions come amid a corrosive atmosphere of attacks on Muslims. At its extreme, such Islamophobia can lead to physical attacks on places of worship, as in Muswell Hill, last year. With many locals, Uaf rallied round to ensure that the community stayed united.
BF's actions show what depths they will stoop to. Their claims to be on a Christian mission have brought strong criticism from Church leaders. BF are seeking to undermine our multicultural society. Instead of cherishing dialogue and tolerance between different communities, races and faiths, these fascists look to scupper it. Thus, defending Muslims and opposing Islamophobia is essential. Confronting the poison of BF is vital. No section of our society should be scapegoated.
Uaf calls for the strongest possible action against such fascists. No Mosque should face a repeat of BF's threats. Their politics and tactics are in direct opposition to our multiculturaL society. We reject their politics of hate and stand full square with all who BF target.
We ask all who agree with the above to sign this statement and circulate it in your trade union, workplace, community. Britain First claim to be visiting these areas, in July:
Glasgow
Newcastle
Sheffield
Wigan
Coventry
Dartford
Bristol
Belfast
If Britain First are intending to visit your town, please contact UAF to discuss how we can build broad based opposition to isolate these Islamophobes.