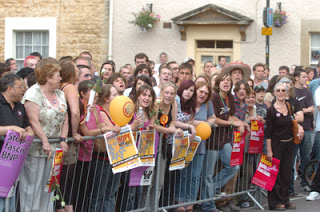 Protesters have gathered outside Corsham town hall after the appointment of a British National Party councillor.
Michael Simpkins, 47, was handed a place on the town council because nobody else stood for election.
The ex-RAF policeman and now taxi driver said he joined the BNP three years ago as his son was being taught about the Muslim faith at school.
"I don't want to see this country turned in to an Islamic state. That doesn't make me racist it just makes me a concerned British citizen."
See also "BNP councillor addresses crowd", Wiltshire Times, 11 June 2007
And "Town vents its fury at BNP councillor", Gazette & Herald, 11 June 2007