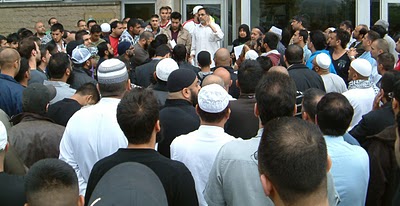 Almost 300 people held a peaceful demonstration outside Dewsbury Police Station on Sunday in protest of what they felt were racist and inflammatory comments made in a local newspaper.
Dewsbury's self-styled independent weekly free paper The Press and its columnist, the self-styled man of the people Danny Lockwood, love to court controversy but they may have taken a step too far after police said they'd received 100 complaints about the article.
Lockwood, the former Press publisher, is now just a columnist. On Friday he wrote that had Cumbrian mass-murderer Derrick Bird been carrying a Koran "he would have been celebrated as a hero by tens of thousands – possibly more – of so-called 'British' muslims."
Organisers of the protest say the article has caused considerable unrest, especially among Muslims. It was published just three days after Bird murdered 12 people. The protestors are also calling for local people, businesses and politicians to boycott the paper.