Two days ago BBC News reported an interview broadcast on Radio 5 Live with an individual who gave his name as Abu Osama and claimed to be a British Muslim fighting in Syria. Describing Britain as "pure evil", Abu Osama said:
"If and when I come back to Britain it will be when this Khilafah, the Islamic state, comes to conquer Britain, and I come to raise the black flag of Islam over Downing Street, over Buckingham Palace, over Tower Bridge and over Big Ben."
The claim was widely publicised in the British media, not least by the Daily Mail.
Yesterday a new thread was opened at the Ummah.com discussion forum under the heading "i am pledging allegiance to the caliphate", with the following comment:
"salam my sisters and brothers we should get out of this evil country and pledge our allegiance to the muslim sharia law and get out of evil west. who wants to join me so we can wage war and jihad against the corrupt west."
The thread was posted in the name of abuaisha10, who had only just registered as a member of the forum and had posted no other comments, which was clearly suspicious.
Suspicions were confirmed when Ummah.com admins discovered that abuaisha10's IP address (195.234.240.212) belongs to DMG Media (formerly Associated Newspapers), which publishes the Daily Mail.
Indeed, according to one IP look-up service, the address would appear to be associated with the Mail's chief reporter, David Williams.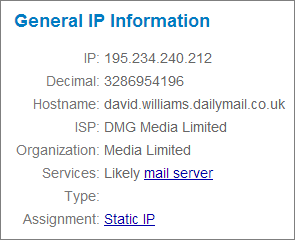 Update:  See also Morning Star, 7 July 2014
According to the Star report: "The Daily Mail Group did not respond to the Morning Star's requests for comment, while an operator with Scotland Yard's anti-terrorist hotline confirmed they would investigate the source. 'If someone is obviously trying to rally people together to commit violence, that would be an offence we would look into,' she said."
Update 2:  See "Statement regarding allegations about media", Ummah.com, 8 July 2014