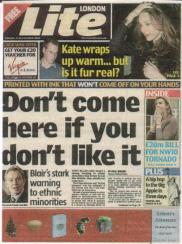 Tony Blair today issued a strong warning to ethnic minorities that if they do not like Britain, they should not come here. The Prime Minister said "British tolerance" was the hallmark of the country and was a non-negotiable part of living here.
He used a keynote speech on ethnic minority relations to wade into the debate on multiculturalism for the first time, and promised a crackdown on groups who refuse to integrate into the British way of life.
Speaking at a lecture in Downing Street, he said: "London is perhaps the most popular capital city in the world today partly because it is hospitable to so many different nationalities, mixing, working, conversing with each other. But we protect this attitude by defending it. Our tolerance is part of what makes Britain, Britain. So conform to it; or don't come here."
This is London, 8 December 2006
In fact, if you read Blair's speech, you'll find that his remarks were almost exclusively directed against Muslims.