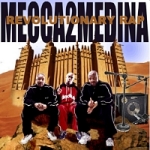 The Islamic hip-hop and ragga group, Mecca2Medina, has urged black and other ethnic minorities not to succumb to what they described as the worrying trend of Islamophobia in the UK.
Abdul-Karim Talib and Rakin Fetuga told The Voice that prominent news items about British-raised Islamic extremists and media debates about whether women should wear the niqab (or face veil) have led to negative perceptions of the Muslim community.
They said prejudice has increased although only a minority of Muslims become extremists. They said blacks should be wary of jumping on these bandwagons because black people in the past have also been victims of stereotyping. "It is being blown out of proportion. The Muslim community feels as if it is under attack," they said.
Mecca2Medina made their comments after their performance at the first staging of Eid in the Square.