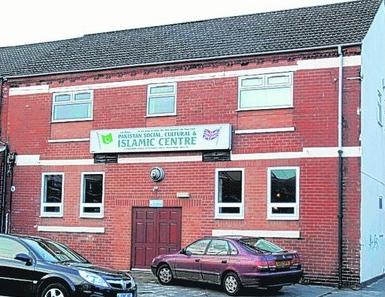 A mourner at a funeral service at a Scunthorpe mosque was attacked when four men burst in, a court was told.
Grimsby Crown Court heard that despite Anayat Shah's attempts to keep them out, the men barged through the Pakistan Social Cultural and Islamic Centre's doors, in Parkinson Avenue, and attacked the man and disrupted the service. Earlier, they had urinated against the walls of the mosque as the funeral service for Mr Shah's aunt was coming to an end.
The court heard mourners including children and relatives were in tears following the attack on December 7.
The Scunthorpe men – Grantas Gruzauskas, 25, of Frodingham Road, Ernestas Rimkevicius, 26, of Fox Street, Mantas Vilkaitis, 26, of Wells Street and Donatas Komas, 31, of Porter Street – all admitted affray. They all received a nine-month prison sentence, suspended for two years.
Gruzauskas, Rimkevicius and Vilkaitis were also ordered to carry out 100 hours unpaid work. Vilkaitis also admitted assaulting a police officer by spitting at him after the incident and was given a one-month prison sentence suspended for two years and 100 hours of unpaid work order to run concurrently with the sentence for the affray offence. Komas was placed on a curfew for four months from 8pm to 5.15am.
Recorder Eric Elliott said he was satisfied there was "no racist element" to the attack by the drunken men.
Prosecutor Gordon Stables said there were around 150 mourners at the funeral service and some were beginning to leave at the end of the service at 8.30pm. He said Mr Shah went outside to investigate why people were shouting. On seeing the four men, two of whom were urinating on the walls, he attempted to shut the double doors. But the court heard that Gruzauskas and one of the others barged in to the foyer of the mosque. They became abusive and Mr Shah was attacked.
When police arrested the group, Vilkaitis spat at one of the officers. In interview, they initially denied being at the mosque but later admitted their offences.
For Komas, Jeremy Lindsay said his client was "chastened" by the incident. For Rimkevicius, Craig Lowe said his client had been in the UK for four years and had worked continuously. He said his client was remorseful. Andrew Wilson, representing Gruzauskas, and Richard Butters, for Vilkaitis, said their clients were remorseful.