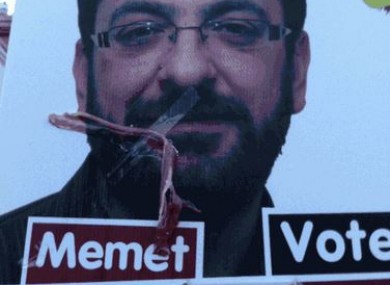 People Before Profit have condemned as "outrageous" the vandalism of a party member's posters in north Dublin.
Memet Uludag — who is originally from Turkey, but has been living in Ireland since 1998 and is now a citizen — is running for a Fingal County Council seat in the Castleknock Ward in this month's local elections. He says that as he passed through Blanchardstown Main Street yesterday, he spotted "strange objects" attached to two of his posters. On closer inspection, he discovered that large, raw pieces of bacon had been stuck on to them with Sellotape.
"This was a clearly racially motivated vandalism," Uludag said. "I called one of my campaign members and we took pictures. We also reported the incident to the local Garda station. The vandals obviously wanted to make a very explicit and clear racist point. Obviously presuming I am a Muslim, they clearly chose the bacon as a symbol of anti-Muslim hate."
Pig meat has been used by vandals in race-based attacks on Muslim institutions and organisations in a number of other countries. Consumption of pork is strictly forbidden in Islam.
People Before Profit EU candidate, councillor Bríd Smith, described the incident as "shocking" and "outrageous". "Defacing things with pig-meat is a tactic that the far right are using across Europe," Smith said. "People like this are cowardly and we need to challenge them. They sneak out at night and do this sort of thing."
Uludag said he had been canvassing in the area for the last six weeks and hadn't met anyone "with racist sentiments". "As my 5 year old, who was with me at the time, said, 'daddy are they doing it just because you have a beard?'"
See also "Racist vandalism on migrant candidate's election posters", People Before Profit Alliance, 2 May 2014