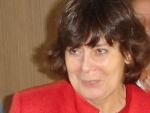 The Dutch government said Friday it plans to draw up legislation "as soon as possible" banning full-length veils known as burqas and other clothing that covers a person's entire face in public places.
"The Cabinet finds it undesirable that face-covering clothing – including the burqa – is worn in public places for reasons of public order, security and protection of citizens," Immigration Minister Rita Verdonk said in a statement.
Basing the order on security concerns apparently was intended to respond to warnings that outlawing clothing like the all-enveloping burqa, worn by some Muslim women, could violate the constitutional guarantee against religious discrimination.
The main Dutch Muslim organization CMO has been critical of any possible ban. The idea was "an overreaction to a very marginal problem" because hardly any Dutch women wear burqas anyway, said Ayhan Tonca of the CMO. "It's just ridiculous."
In the past, a majority of the Dutch parliament has said it would approve a ban on burqas, but opinion polls ahead of national elections Nov. 22 suggest a shift away from that position, and it is unclear if a majority in the new parliament would still back the government-proposed ban.
Associated Press, 17 November 2006
See also "Dutch government backs burqa ban", BBC News, 17 November 2006
The ban would of course mainly affect the niqab rather than the rarely-worn burqa. But why should Verdonk (or the BBC) bother about the technicalities of Muslims' funny foreign clothing?