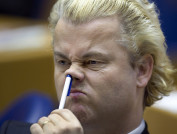 A rightwing Dutch MP said yesterday that he was making a film to highlight what he calls "fascist" passages in the Qur'an, in his latest high-profile criticism of Islam.
The interior and justice ministers expressed concern but said they had no authority to stop Geert Wilders screening his film. Wilders plans to depict parts of the Qur'an he says are used as inspiration "by bad people to do bad things".
Less than 10 minutes long, the film is expected to be shown in late January. It will show "the intolerant and fascist character of the Qur'an", said Wilders, whose anti-Islam campaign helped his Freedom party win nine seats in parliament in last year's election.
In the past, Wilders has compared the Qur'an to Adolf Hitler's book Mein Kampf. He has claimed the Netherlands is being swamped by a "tsunami" of Islamic immigrants.