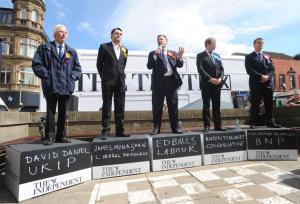 Schools Secretary Ed Balls received a frosty reception from voters as he went head to head with the British National Party in a soapbox debate in West Yorkshire today.
Mr Balls, who has a notional majority in the seat of Morley and Outwood, was jeered and booed by some members of the public in Morley town centre as he answered questions.
Four other candidates – Chris Beverley for the BNP, Anthony Calvert for the Conservatives, James Monaghan for the Liberal Democrats, and David Daniel for the UK Independence Party – joined Mr Balls as they mounted soapboxes to address voters directly. A microphone was passed round the crowd during the 40-minute event, organised by The Independent newspaper, and questions were asked on issues including schools, the economy, jobs and immigration.
A question posed from a male member of the crowd regarding Belgium's decision to ban the burka led to one of the biggest responses from the audience. He asked the candidates: "They're doing this (banning the burka) in the interest of women's rights, social inclusion, anti-terrorism and security. What I want to know is which of the parties are going to have the gumption to take an issue like that and really address it?"
Mr Balls answered: "We have people here who are Christian and Muslim and Jewish, and I think British values of tolerance and fair play and mutual respect mean that you don't say to people that because of their particular religion, or the colour of their skin that they are second class."
Some members of the audience clapped and cheered in support of Mr Balls while others booed and held aloft BNP posters.
See also BBC News, 30 April 2010