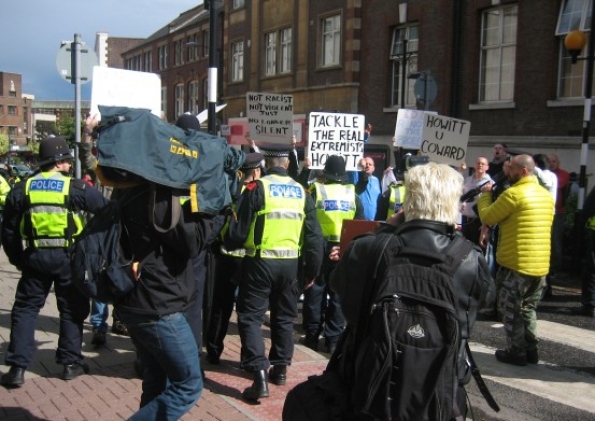 A chorus of boos and chants greeted Euro MP Richard Howitt as he arrived at Luton Town Hall for extremism talks this afternoon.
A large group of English Defence League members had gathered at the Duke of Clarence pub after EDL leader Tommy Robinson accused the MEP of failing to tackle Islamic extremism.
With Mr Howitt were MEPs from five other European countries who have experienced far right extremism in their own countries.
Before the group arrived, EDL members emerged from the pub and lined the pavement, holding placards and chanting slogans including "Muslim bombers off our streets" and "No surrender to the Taliban".
Emerging from the meeting to more booing, Mr Howitt said: "Not only are the EDL unrepresentative, they seek to prey upon the insecurities of normal people who are worried about their jobs and homes."
A updated report adds that "MEPs from Austria, the Netherlands, Hungary and Slovakia arrived at the building for anti-extremism talks to booing and shouts of 'scum' from the EDL members."
See photos by Mirrorimage at Demotix