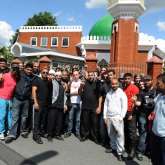 Counter-protesters staged a demonstration at Maidenhead Mosque today following a march by the English Defence League (EDL) in Maidenhead's town centre.
The EDL held a protest in the town from about 10.30-1pm today, against the Islamic Trust's plans for a new cultural centre near Maidenhead Mosque.
Police lined the town centre streets during the demonstrations today. They also patrolled surrounding areas including Moor Lane in the North Town area of Maidenhead, where about 100 Muslims, Unite Against Fascism members (UAF) and residents, staged a counter march – heading their way towards Maidenhead Mosque.
UAF members, many of whom were not Muslim, went inside Maidenhead Mosque at about noon before sitting inside – where members from the Muslim community prayed.
Talking outside the mosque, members of the crowd said they were there to defend the place of worship. "Many of us are worried that EDL members will come here and try to deface or ruin the mosque. It is our place of worship so we are here to defend it if we need to," said a 22-year-old man who wished not to be named through fears he will be targeted.
Maidenhead Advertiser, 11 June 2011
See also "EDL protest: Protesters march and make speeches in town centre", Maidenhead Advertiser, 11 June 2011