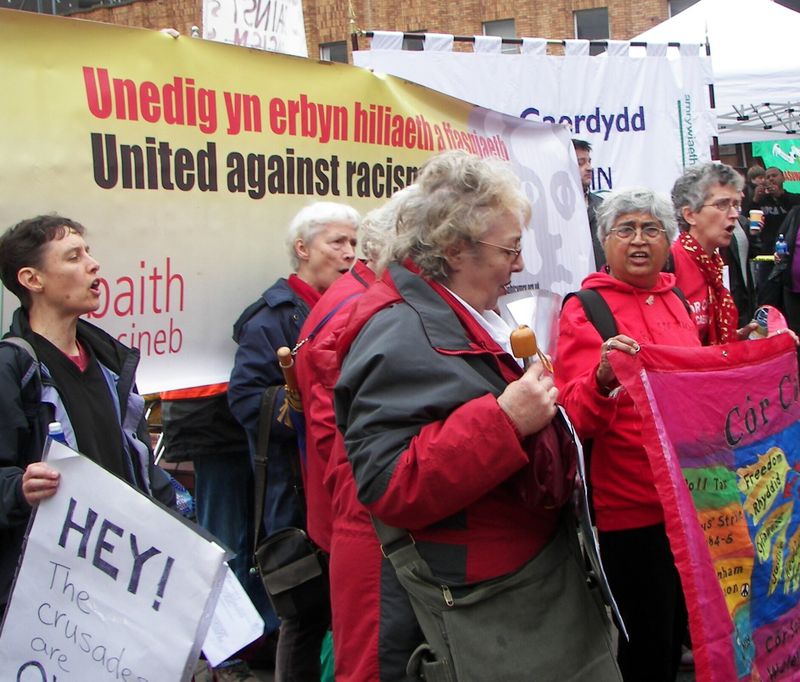 Newport anti-fascists scored a major victory this weekend when an impressive show of local unity stopped the English Defence League's (EDL) attempt to spread its racist poison in Wales.
The EDL had planned a rally in the city's John Frost Square on Saturday to launch the Welsh Defence League, but a 500-strong counterprotest and a complete lack of local support forced it to cancel.
This followed the fascists' disastrous visit to Swansea last weekend, where they were driven off by a larger counterdemonstration.
"Newport is a multicultural city with an industrial background," explained Ian Titherington of Searchlight Cymru, "and today's fantastic turnout shows that racists are not welcome here."
Campaigners, joined by local politicians and faith groups, occupied the square to celebrate multicultural Newport with live music, including a drum band and an impressive performance from the Cor Cochion Caerdydd (Cardiff Red Choir).
Unite Against Fascism marched through the city centre before joining the rally, which also heard speeches from Welsh Assembly Minister John Griffiths and local Labour MP Paul Flynn.
See also "Racists day off" on Paul Flynn's blog, 24 October 2009