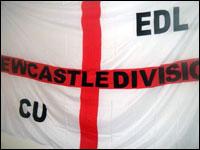 An anti-Islamic football group is being investigated by Newcastle United lawyers. The club is taking legal advice after their black and white crest was used by English Defence League Newcastle. The EDL has made its first steps to infiltrate football in the North East by setting up a Facebook group on the internet. It has already attracted more than 600 members.
Magpie bosses are keen for people to know that the club is in no way connected to the extremist body. A spokesman said: "Newcastle United wish to make it clear this has absolutely nothing to do with the football club and are also seeking legal advice over the misuse of its crest." Following a probe by the Sunday Sun, the EDL removed the NUFC logo from its Facebook web page.
The group claims it is not racist, and says it is campaigning only against extremists and no one else. However, Show Racism the Red Card says the EDL is known to have links with fascist organisations. The charity, which has strong support from NUFC, has warned fans they should not become involved with the EDL.
Chief executive Ged Grebby said: "We know that the EDL are a racist organisation and since they have been set up they have caused mayhem. Wherever they have set up bases, such as in Birmingham and London, they have targeted the Asian community in a blatantly racist way."
He is concerned that the Facebook group is the first step for the EDL to set up a base in the North East. Show Racism the Red Card is determined to stamp the group out before it even gets started. Mr Grebby said: "We don't want them in the North East, they are not welcome here. This is a desperate attempt to get some kind of base here, using what they know is a fantastic symbol."