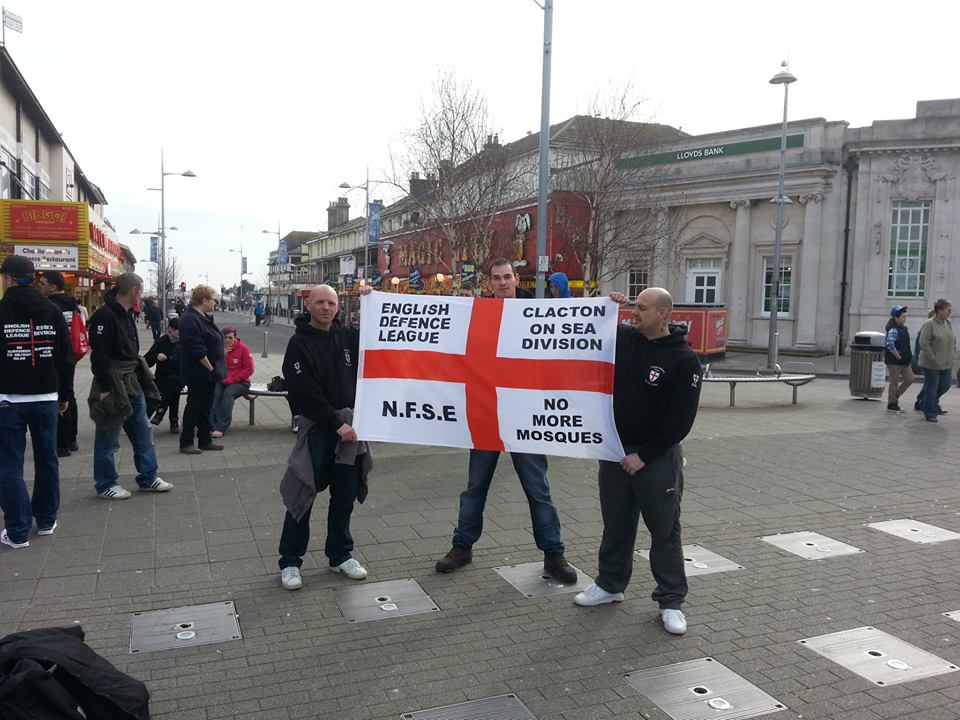 Police have monitored a rally by the English Defence League in an Essex coastal town.
A spokesman for Essex Police said the force was not aware of the demonstration until an off-duty police and community support officer spotted some of those involved at Clacton's rail station.
The 20-strong group occupied an area of Pier Avenue from around 1.50pm until the last demonstrator left at 5pm. "This has been finished and dealt with," the spokesman said. "The 20 demonstrators raised a few flags. There were no scuffles and no arrests."
A post put up on the EDL's Clacton-on-Sea Facebook website said: "To everyone who helped us today and the public of this great British town. We are here for the public and we will never surrender!"
East Anglian Daily Times, 8 March 2014
---
The EDL were protesting against decision by the Planning Inspectorate to overrule Tendring Council, who had rejected the proposal, and grant permission for an Islamic community centre in Clacton.
An outraged EDL member reported yesterday on the nefarious activities of the Tendring Islamic Cultural Association:
"THEY WAS HANDING FOOD OUT THIS AFTERNOON TO THE PUBLIC, TRYING TO FOOL PEOPLE THAT THEY WILL BE AN INTEGRAL PART OF OUR COMMUNITY ???? JOG ON WITH YOUR FALSE GESTURES OF FRIENDSHIP….YOU WILL NEVER BE PART OF OUR COMMUNITY AS YOU WILL NEVER INTEGRATE WITH US ! POKE YOUR LIES AND FALSE FRIENDSHIP (TAQIYYA) LYING TO THE INFIDEL (NON BELIEVER) THIS IS ENGLAND A CHRISTIAN COUNTRY ! NFSE !"