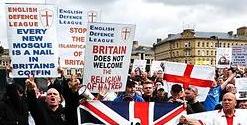 The English Defence League (EDL) is to march against against Islam today in four towns and cities.
Anti-fascists will put on counter-protests against what they have described as a "summer of hate" by the EDL. Hundreds of police are expected to be on duty to prevent a repeat of violent scenes at previous events.
In Cambridge, EDL supporters will march in opposition to plans to build a mosque in the Mill Road area. A rival demonstration by Unite Against Fascism (UAF) will also be staged as thousands of families are expected to attend the city's Big Weekend celebrations of live music.
Both sides will also be taking to the streets in Plymouth. The EDL has been distributing leaflets in the city centre with pamphlets saying "defend our culture".
A planned EDL march in Derby was called off although opponents will still hold a Love Music Hate Racism festival at different venues in the city.
EDL will be staging its first demonstration in Middlesbrough, again over plans to build a mosque.