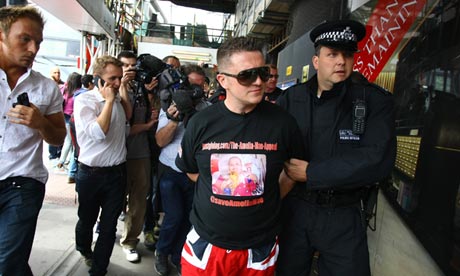 Two leaders of the English Defence League (EDL) have been charged with obstructing police officers in east London. The men allegedly tried to defy a ban on marching to the scene of the murder of soldier Lee Rigby via a major mosque.
Tommy Robinson, 30, whose real name is Stephen Yaxley-Lennon, appeared at Westminster Magistrates' Court earlier. His co-leader Kevin Carroll was also charged after answering police bail. Both men are due to appear at the same court on 11 September.
They were arrested on suspicion of obstructing officers outside Aldgate East Tube station on 29 June. The pair, both from Luton, were attempting to stage what they claimed was a charity walk to Woolwich Barracks in south-east London via the East London Mosque, in breach of police restrictions put in place to avoid "serious public disorder and serious disruption to the life of the community".
The Metropolitan Police said it had offered two alternative routes that avoided Tower Hamlets, home to the mosque, and had warned that anyone who tried to march to Woolwich would face arrest.
As well as planning to lay flowers in memory of Fusilier Rigby in Woolwich on Armed Forces Day, Mr Robinson and Mr Carroll said they were also walking to raise money for a young girl who has neuroblastoma, a cancer that develops from nerve cells.
Officers had decided to remand Yaxley-Lennon, 30, from Luton, in custody when he was charged to allow magistrates to decide on bail conditions, Scotland Yard said.
Mr Carroll, 44, also from Luton, answered police bail later in the day and was charged without appearing in court.