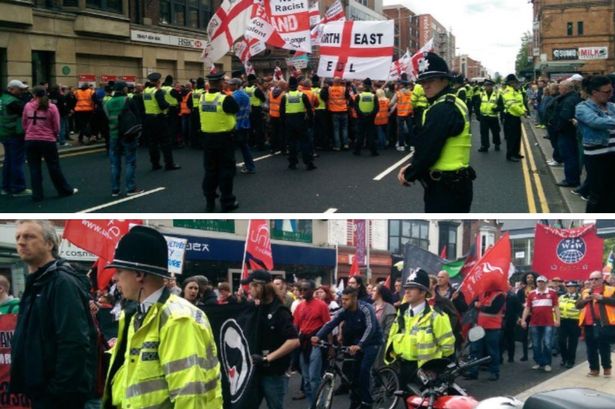 An English Defence League (EDL) march planned for Middlesbrough has been met by a counter-demonstration at Ayresome Gardens in the Teesside town.
More than 350 EDL supporters descended on Middlesbrough with a "significant numbers of officers" deployed to prevent any trouble. The EDL supporters encountered approximately 200 counter-demonstrators, dressed in the red colours of Middlesbrough Football Club and the workers' movement, protesting against the presence of the right-wing movement.
"Every time the fascists come, we'll stand together. But we don't anticipate any trouble," said demonstration organiser Lawrie Coombs. Councillor for the area Len Junier led the march around Middlesbrough in defiance of the EDL. "We are lucky in Middlesbrough, we don't have problems with racism," he said. "We don't want the EDL splitting our community. We want to celebrate the diversity in our area. But we don't want to get in anyone's face."
Banners, flags and placards that threatened to cause disorder were banned, along with any objects that might cause injury or damage.
See also "Replay: EDL march and counter demonstration in Middlesbrough town centre", Evening Gazette, 28 June 2014