The English Defence League is planning to return to Dudley in protest at the controversial decision to grant planning permission for a new mosque. The far-right protest group intends to hold a demonstration in the town on February 7 according to one of its Facebook pages.
Dudley Muslim Association is locked in a long battle with Dudley Council over a proposal for a mosque on land off Hall Street. Earlier this month, the association won planning permission for the mosque. But it faces at least two court hearings and legal wrangles lasting at least two years before it can be built. In an attempt to avoid the escalating court costs and resolve community disharmony, Muslim leaders say they will consider alternative sites.
On a Facebook page purporting to belong to the EDL's Dudley branch two pictures were added, one giving the date of a 'Dudley Demo' on the backdrop of a St George's flag, with 'no surrender' written underneath. Another picture has 'Dudley we are coming' written on it.
The EDL came to Dudley to demonstrate against the planned mosque in 2010. Violence broke out and parts of the town were brought to a standstill after around 600 followers of the group descended.
Houses and cars were damaged, missiles were hurled at officers and steel fences were pulled down as trouble flared between English Defence League demonstrators and police. Homes in Alexandra Street, cars parked in roads surrounding Stafford Street, restaurants in Wolverhampton Street and a Hindu temple were all attacked by vandals. Windows were smashed and damage was caused to fencing while a number of vehicles were also targeted as they were being driven through the town.
In 2012 another EDL protest came to Walsall. A Pakistan flag was burnt and placards were also displayed, including one which read: 'Our Walsall will never be part of Pakistan', Wolverhampton Crown Court heard the following year. Pages of the Koran were also said to have been burnt.
The EDL also came to Birmingham in October this year. Ahead of the Birmingham protest the EDL posted a message about Dudley on its main website, saying: "We went to Dudley twice to protest against the mosque in 2010. In 2014, the plans for the mosque are back and so we must go back. We have a duty to the local residents to help them fight this monstrosity once again, and we have a duty to ourselves, our children, and their children to stop yet another step in the Islamisation of this country we hold so dear."
Express & Star, 3 December 2014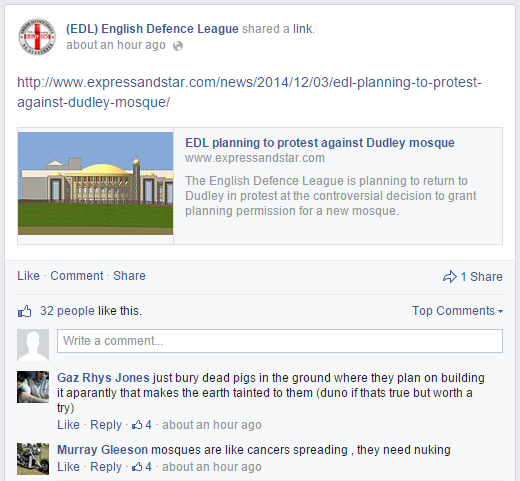 Update:  Further comments on the EDL Facebook page include:
"no more mosque anywhere in uk should be allowed"
"these mosques are not a place of worship they are headquarters for if civil war breaks out who knows whats hidden in these dens of evil weapons maybe who knows SO stop allowing these mosques we will live to regret all this and abolish the word racist"
"mosques in arabia not in europe"
"Don't protest against it knock the shithole down"
"Hand grenade practice needed there"
"Destroy Islam, save humanity!!"
"Everyone should be protesting against it. It shouldn't be allowed. These places are where radicalisation and terrorist planning takes place. When will our government wake up to this fact."
"how about making more churches for our Christian country"
"Where ever they plan to build a mosque just bury some pigs"
"Yeah, you can get pigblood at the butcher ! Just spill it over and over again"
"There's already too many of them in this country, if they want to preach hate or pray to Allah then they should go back to their own Muslim countries to do this"
"Proud to be white"
"we have to stop the building of these things, this is the UK not muslim"
"burn it down"