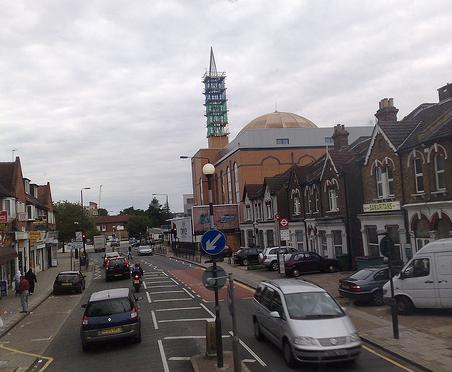 A Harrow mosque leader says he is "sad" about plans for a 9/11 far-right protest outside its building.
The English Defence League (EDL) has organised a demonstration in front of the building, in Station Road, on September 11, and plans to make it a memorial event for the 2001 terrorist attacks. The event will take place on a Friday, the Islamic holy day.
Ghulam Rabbani, general secretary of the mosque, said: "We also believe that September 11 wasn't right. We have a policy of anti-extremism. If people have something against us, they probably don't know us. If you are Christian or Muslim we can still be friends. We hope the local community and our friends and the local government and police will be there to try seriously to defend everybody."
Members of EDL clashed with anti-fascist campaigners in Birmingham on August 10 with police in riot gear struggling to control the situation. Officers made 35 arrests.
The original protest outside Harrow Central Mosque was organised for August 29 on the back of claims there were plans to hold Sharia court meetings in its new building. Mr Rabbani says there are no such plans but a statement on the website of the far-right coalition the British Defence Leagues says they do not believe him and do not "want any more mosques in this country".
The statement reads: "It has now been rescheduled to September 11th, which is a Friday, but will incorporate a 9/11 anniversary commemoration. This is now being organised by the EDL."
Mr Rabbani said: "We have worked very hard with the local government and the local police to keep community cohesion and partnership. All of the community can live together peacefully. Most of the community is happy with us. This group is coming from outside."
---
According to the Casuals United/British Defence Leagues site, other provocative anti-Muslim demonstrations are planned in Birmingham on 5 September, Luton on 19 September and Manchester on 20 October.
Update:  The British Defence Leagues website has now been amended. After stating that the 11 September march will incorporate a 9/11 anniversary commemoration, it adds: "This is now being organised by the group Stop the Islamification of Europe SIOE and is NOT an EDL EVENT. Our members wont be attending to prevent extreme left wingers using it as an excuse to stir up racial hatred."
This is rather unclear. It seems to be saying that the EDL will still hold a march in Harrow, but the 9/11 anniversary commemoration will be organised by SIOE (which I thought was pretty well defunct, after the embarrassment of its disastrous "Stop Kuffarphobia" demonstration in October 2007).
But this is the problem with ignorant, illiterate racists. They have difficulty expressing themselves coherently.