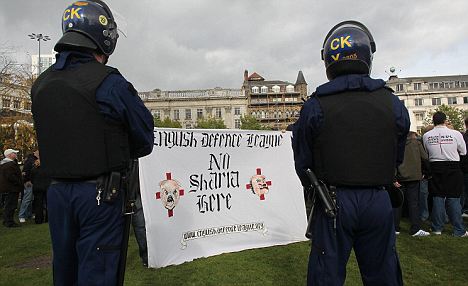 Ten people were injured and 44 people arrested in the English Defence League protest in Manchester city centre. Police imposed a lockdown around Piccadilly Gardens as EDL demonstrators faced off against Unite Against Fascism (UAF).
The two factions stood on opposite sides separated by a police line with officers on horseback and in riot gear. EDL supporters, who oppose "radical Islam" and Sharia law made Nazi salutes and sang patriotic songs, while UAF protesters maintained a non-stop anti-fascist chant. There were several hundred EDL protesters and more than 1,000 from the UAF.
The stand-off continued for about four and a half hours on Saturday afternoon. Shops were closed around the Piccadilly area. Around 4.30pm some UAF protesters began to disperse. Shortly before 5pm police moved the EDL supporters off Piccadilly Gardens and escorted them to bus and train stations.
UAF spokesman Mike Gilligan said: "It was a tremendously successful day for the anti-racist movement. The EDL were run out of town, they were not very powerful, they completely failed. Our protesters reflected the energy, particularly of young people, who showed their disgust at the racists trying to group together in Manchester city centre. It was a vibrant celebration of multi-cultural Manchester."
Manchester Evening News, 10 October 2009