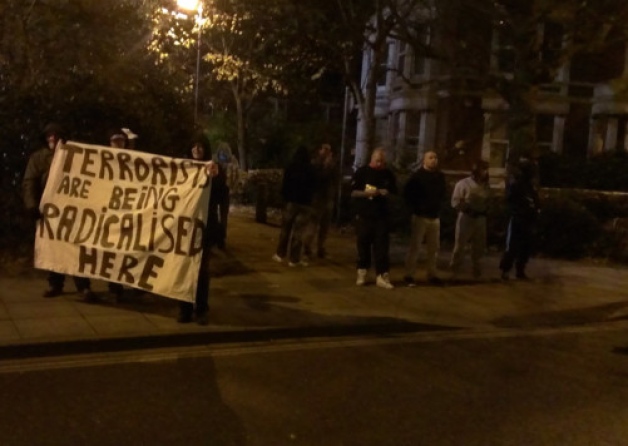 Around 20 members of the English Defence League (EDL) protested outside the Jami mosque in Southsea last night.
Chanting and waving placards, one of which read "terrorists are being radicalised here", the protestors said they feared terrorist attacks could be carried out in the city by men from Portsmouth who have gone to Syria to fight with al-Qaeda linked groups.
As reported in The News, young men from Southsea who worshipped at the mosque have gone to fight in the country. Their actions have been condemned by key members of the local Muslim community, including worshippers at the Jami mosque.
EDL members traded insults with a counter demonstration of around 20 people, who were stood next to the mosque, in Victoria Road North, with police present to prevent trouble. The counter demonstration was largely made up of Unite Against Fascism members who said they had come to defend the mosque and worshippers.
Some of the EDL members, who were at the mosque for two hours from 7pm, wore hooded tops emblazoned with EDL and had the flag of St George printed on them. None gave their names.
A 50-year-old woman said she had been in the Portsmouth EDL division since around 2011. She said: "I'm concerned about terrorists fighting in Syria and then coming back to this country. What are they going to do when they come back here?"
A 39-year-old man, wearing a mask covering half of his face with the St George's flag printed on it, said: "It's down to the Imams and other political leaders of the Islamic faith to police their people, and they're blatantly not doing it."
But Waldemar Maxim, 67, who was in the counter demonstration said: "What the EDL try to do is intimidate people. They're now targeting the Muslims here as terrorists, how dare they? How can you talk about a whole faith group and describe them all as terrorists?"
The protests ended at around 9pm, with no incidents reported.
Portsmouth News, 5 December 2013
---
This isn't the first time the EDL have targeted the Jami mosque.
They joined a demonstration there in 2010, to protest against Anjem Choudary's followers burning poppies, for which of course the Jami mosque bore no more responsibility than they do for individuals who have gone to fight in Syria. The day before the protest, a 6ft poppy had been painted on the building.
One of the protestors, Blaise Silvester, was arrested after charging at counter-demonstrators and swinging punches at them. He was later convicted of affray and assault, and the judge expressed his regret that an error by the probation service meant that he couldn't impose a prison sentence.
The EDL held a further protest outside the Jami mosque in May this year, following the murder of Lee Rigby – for which, needless to say, the mosque was equally blameless. Four people were arrested.