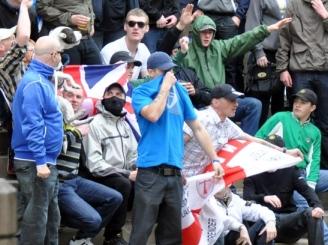 Two English Defence League supporters who armed themselves with pool balls stolen from a pub have been ordered to do unpaid work.
Michael Riley, 23, and Peter Craven, 28, travelled to Halifax from their homes in Hull for the far-right group's town-centre demo in April. They were arrested after the landlady of the Beehive and Cross Keys pub reported the balls stolen from the premises.
Prosecutor Niall Carlin told Bradford Crown Court the men were part of a group that had gone into the King Cross Street pub, near the predominantly Asian Park ward. They were chanting racial slurs and breaking pool cues, making the licensee and regulars nervous, he said. The men were stopped and searched after leaving the pub, and Riley and Craven were found with the missing pool balls.
Riley, of Binbrook Garth, and Craven, of St Aidan's Way, both admitted theft and possessing an offensive weapon. Ian Brook, mitigating, stressed they were supporters of the EDL, but not members, and there was no evidence they had been involved in any public disorder or breaking of pool cues.
Mr Brook said a group of Asian males had come towards a police cordon near the pub but neither group had made any attempt to get to the other. He said: "The defendants and their group were moving away from them, and it would appear they had wrongly stolen the pool balls and taken them up as weapons in case they needed to use them. There was no suggestion they were going to use them offensively against any of the Asian youths."
Recorder Amanda Rippon said: "Nonetheless it was theft, first of all, and you armed yourself with a potentially dangerous weapon."
The men, who have no previous convictions, were each sentenced to a 12-month community order with supervision, and must complete 80 hours of unpaid work.
---
"Stressed they were supporters of the EDL, but not members"? The EDL has no formal dues-paying structure, so all of its members are technically just supporters. Why are EDL protestors so pathetically eager to dissociate themselves from their own organisation whenever they get hauled up in front of a magistrate? Perhaps from now on they should sign off their racist Facebook rants with "NFSE – unless of course we find ourselves in court".