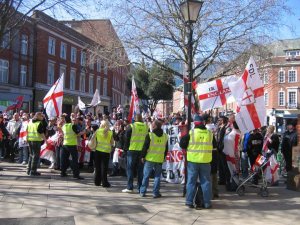 Around 200 members of the English Defence League came from across the country to demonstrate in Reading today (Saturday).
Members of the controversial group, which claims to oppose Muslim extremism, chanted and waved flags as they marched from the Three Guineas by Reading Station to Market Place, flanked by a heavy police presence.
They were greeted outside the Town Hall by around 50 demonstrators, who said the EDL were divisive, dangerous and not welcome in a multi-cultural, tolerant and united Reading. Edward Willis, 25, from Oxford Road, added: "We don't tolerate or want them in our town, they are Nazis and fascists."
Some EDL members said they were protesting against the building of the Oxford Road mosque and proposed east Reading mosque but others pointed to wider reasons, such as the building of mosques elsewhere in Britain, and called for more to be done to tackle Muslim extremism.
Among the EDL supporters was founder Tommy Robinson, from Luton, and a 38-year-old builder, from Oxford Road, who did not want to give his name but said he helped organise the protest. He described the Oxford Road mosque as an "absolute eyesore" and added: "We don't want another one being built in east Reading."
Reading Borough Council has released a statement condemning the "racist demonstration". Council leader, Andrew Cumpsty, said: "We in Reading have excellent relations between our varied and vibrant communities. Hatred and division have no place in civilised political debate and I condemn the activities of this small minority. In Reading we celebrate all the varied parts of our town, as all together we are stronger and richer because of our diversity."
Reading Chronicle, 19 March 2011
Update:  See also BBC News, 20 March 2011