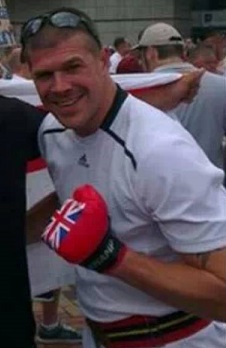 The sentencing of eight English Defence League supporters for violent disorder was temporarily halted on Monday after one of them demanded to be updated on the Sydney cafe siege.
Judge Richard Bond briefly adjourned the case after being verbally abused, urged to "pass proper sentences" on Islamic extremists, and asked: "Any news on the Australian hostages?"
Some of the defendants walked around the dock at Birmingham crown court during the outbursts, which also included chants of "No surrender to the Taliban."
Judge Bond had already sentenced three of the men when one of them shouted "If there were proper sentences for extremists, the EDL wouldn't be here" and another asked for news of events in Australia. The judge then left the courtroom for several minutes, before returning to continue to address the defendants and explain their sentences.
Among those in the dock over violent scenes at an EDL rally in Birmingham city centre was Otis Bloodworth [pictured], who attended the protest event in July 2013 wearing Union Jack boxing gloves and shorts. CCTV footage played to the court showed Bloodworth, of Skegness, Lincolnshire, punching a man who was being led away from the event by stewards.
The 35-year-old, who has 43 previous convictions dating back to 1997, was arrested and taken to a police station in March after an appeal for information on the BBC's Crimewatch programme. When questioned by officers as to whether he had any medical conditions, Bloodworth said he had "Islamophobia" and refused to be represented by a Muslim solicitor.
Bloodworth was jailed for 18 months alongside Benjamin Crowder, who was celebrating his 21st birthday at the protest march. Crowder, now 22, of Derbyshire, was given a two-year custodial sentence after footage was played to the court of him throwing an object at police. Shane Williams, 27, of Leicester, was jailed for two years. The court heard that he was seen chanting anti-Islamic slogans, hurled an empty soft drinks bottle at police, and was present at five of seven distinct sites of disorder at the protest.
Also before the court was Thomas Flynn, 22, of Swindon, who confronted police officers, leading them to push him away with riot shields. Judge Bond jailed Flynn for 14 months after hearing that he helped out at a respite centre and had now disassociated himself from the EDL.
Another defendant, Gareth Wall, 25, of Leeds, used a metal pole to smash the window of a restaurant as thugs caused damage in the Regency Wharf area of Birmingham. He was jailed for 20 months after the judge told him he had shown no remorse for his "persistent" offending, which included kicking out at a police dog while goading the animal using a St George's Cross flag.
During the EDL rally, a Muslim prayer cap and a Pakistani flag were set on fire in the street, while police were pelted with paving slabs and bottles. Around 200 EDL supporters were involved in the violence in the Broad Street and Centenary Square areas of Birmingham, which lasted for around two hours and left 30 officers injured.
Press Association, 15 December 2014
Update:  See "EDL Birmingham riot thug Thomas Flynn, from Swindon, jailed – but gets shorter sentence after leaving EDL", Western Daily Press, 16 December 2014