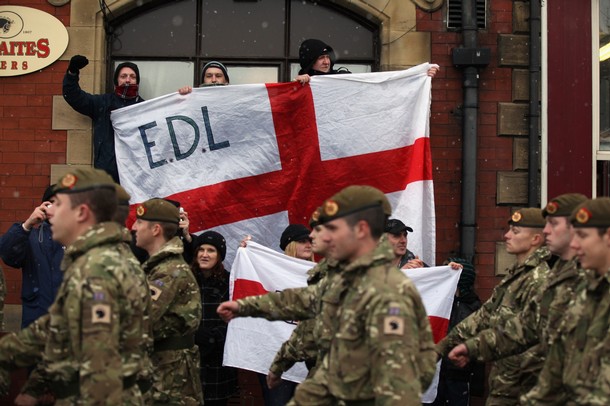 Supporting British troops … by endangering their lives
Defence chiefs are investigating a claim that soldiers from the 1st Battalion of the Duke of Lancaster's Regiment have been photographed showing their support for a far-right anti-Islam group.
Several pictures are under investigation. One shows soldiers from regiment – which recruits in Cumbria – posing next to the flag of the English Defence League (EDL) at a homecoming parade for the regiment in Blackburn last year. Eight soldiers are seen standing next to the flag, bearing the words: "EDL supports Duke of Lancaster Regiment." Another more controversial picture shows a uniformed solider, allegedly in Helmand Province, his face hidden by a black scarf as he brandishes a pistol and stands in front of before the EDL flag.
The pictures – which have not yet been confirmed to be genuine – could help radicalise some Muslims, and inflame divisions between Islam and the West.
Kevin Caroll, 41, who is joint EDL leader, said the organisation was opposed to racism, but the Cumbrian branch is currently publishing an on-line video crammed with anti-Islamic slogans. The first of these shows a medieval crusader in battle armour, under the slogan: "Jihad works both ways." Another slogan tells viewers: "Let the crusade begin."
---
See also Lancashire Telegraph, 17 May 2011
The photographs were first published in the Sunday Times, captioned "Soldiers flaunt support for anti-Muslim league". Contributors to Exposing… have suggested that the photos were supplied to the paper by the EDL itself as a publicity stunt. The fact that this is likely to further endanger the lives of British soldiers serving in Afghanistan was evidently of no concern to the "patriots" of the EDL.