The English Defence League are now threatening that unless the government agrees to their demands they will return to Tower Hamlets at the end of October to stage a protest outside the East London Mosque. The word "return" is of course used somewhat loosely. Last time they were penned in by the police across the border in the City of London and didn't even get into the borough of Tower Hamlets.
In an attempt to present a moderate face, the EDL statement features the usual lying denials that the organisation consists of violent anti-Muslim racists. "We are not in any way opposed to all Muslims," it assures us, "just Islamic extremism." Indeed, the EDL piously declares that the reason it proposes to demonstrate against the ELM is because the mosque is supposedly run by dangerous radicals, "not because we wish to provoke or upset ordinary, decent Muslims".
The same day that these laughable claims were published on the EDL's main website the following post appeared on the EDL's Facebook page.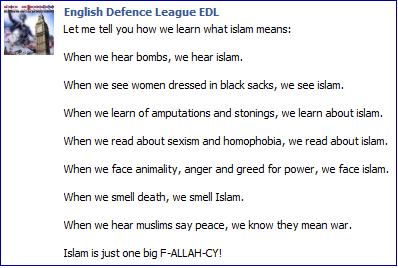 And here is a selection of comments posted by EDL supporters in response to this. It consists of the usual vile racist abuse interspersed with the occasional death threat.