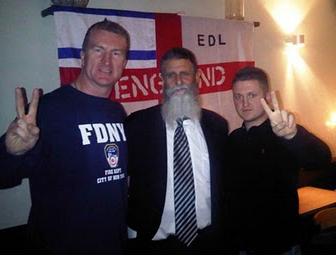 Nachum Shifren with EDL leaders Kevin Carroll and Stephen Yaxley-Lennon
A white extremist organisation is forging links with Jewish, Sikh and gay communities to fuel prejudice and fear and hatred of the Muslim community, it was claimed today.
The English Defence League (EDL), which was formed last year in protest at Islamic extremist activity, has also reached out across the Atlantic to build close ties with the American right-wing group, the Tea Party.
Hundreds of EDL members are planning demonstrations in Nuneaton and Preston today to protest at the building of mosques and what they claim is the growing influence in the UK of Sharia law.
But a new report, written by Professor Nigel Copsey of Teesside University, warns that the growth of EDL membership will spread Islamophobia in communities sharing a perceived "historical angst" against Muslims.
New branches of the League, such as the Jewish Division, could exploit the existing religious hostilities caused by territorial disputes in the Middle East, says Professor Copsey whose report was commissioned by the organisation Faith Matters.
It claims that these inter-faith tensions were brought into sharp focus last month when the senior US Jewish leader and Tea Party activist Rabbi Nachum Shifren denounced Islam at a EDL rally outside the Israeli Embassy in London. Israeli flags have also been spotted at several EDL demonstrations across the UK.
As well as aggravating religious tensions, the EDL has established a Lesbian, Gay, Bisexual and Transgender Division to "defend" gay people from Sharia law. There are also specialist divisions for women, soldiers and disabled people.
Professor Copsey warned: "True to the spirit of the enemy of my enemy is my friend, the EDL is targeting other ethnic communities. These communities need to guard against approaches by the EDL."
Founder and director of Faith Matters, Fiyaz Mughal, said: "The EDL's main aim is to increase tensions, raise hate and divide communities. Their attempts to portray themselves as a legitimate and open movement cannot disguise their violent, anti-Muslim agenda. This hate can easily mutate against another community."
The Faith Matters report is entitled The English Defence League: Challenging Our Country and Our Values of Social Inclusion, Fairness and Equality.
See also "EDL threatens social inclusion in UK, report warns",IRNA, 27 November 2010