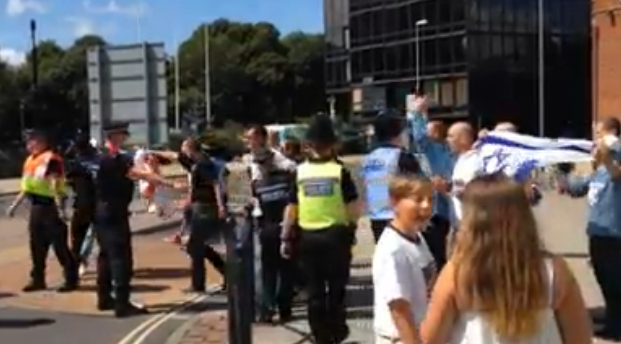 A confrontation between anti-war demonstrators and members of the English Defence League (EDL) brought Portsmouth's city centre to a standstill today.
About 200 protesters marching against Israel's campaign in Gaza were confronted by around 15 men from the right-wing group about 1pm. The anti-war protesters were stopped at the roundabout between Guildhall Square and Commercial Road by police as more officers rushed to the scene.
The EDL men, most with shaven heads, stood on the opposite side of the road held back by police. One man wearing a skullcap and carrying the flag of Israel shouted: "You support Hamas, the terrorists!" Some EDL men came to push-and-shove with the police, as the anti-war group moved on down the pedestrian zone, chanting: "Free, free Palestine!"
Police continued to shepherd the protesters around the city centre as the EDL gang unsuccessfully tried to head off the group. A 38-year-old man, chanting "EDL! EDL!", was arrested on suspicion of assault after a bottle was thrown in the direction of the protestors.
The demonstration concluded on the steps of the guildhall and the EDL gang withdrew to the Painters Arms pub.
Jenny Flintoft, who is secretary and chairwoman of the Portsmouth and South Downs branch of the Palestine Solidarity Campaign, said she had expected the EDL would show up.
She said: "It has happened at other places. They monitor our Facebook page so we knew they would come. They have nothing to say except 'you're anti-Semitic', which given their history is an interesting thing to say. It was a very poor showing on their part. They're pathetic, just a handful of nothings."
The march coincided with other demonstrations against Israel's actions in Gaza across the country and around the world.
Zuber Hatia, of Southsea, was among the protesters. He said: "It's not a war, it's a massacre. Gaza is 1.8m people crammed in on all sides in one of the most densely-populated places on Earth. On top of that you have one of the most sophisticated and lavishly-funded armies in the world employing the most belligerent weapons and testing them on a civilian population."
The demonstration ended around 2pm.