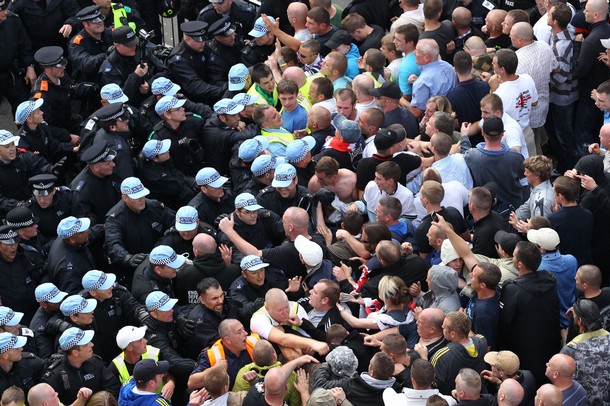 English Defence League members try to break through police lines on Saturday
Journalists covering an English Defence League rally in London were subjected to a series of "violent attacks" on Saturday – including sexual assault and a photographer being set on fire, according to the National Union of Journalists.
The NUJ has revealed that after the event it received "numerous reports of harassment, threats and abuse" including "physical assaults, racist abuse, bottles and fireworks being thrown at the press and photographers being punched and kicked".
The union claimed that one journalist "was subjected to a sexual assault" and said that another NUJ member "suffered minor burns after an EDL supporter used a flammable accelerant to set the photographer on fire". The union said it was now offering support and assistance to the journalists who were abused and condemned the attacks as a "violation of press freedom".
"These violent attacks are an appalling abuse of press freedom and a clear attempt by members of the EDL to deter journalists from carrying out their work," said NUJ general secretary Michelle Stanistreet. "These attacks are designed to intimidate NUJ members and those in the local community who are determined to stand up to far-right groups. The police need to take decisive action to ensure that the thugs who attacked journalists during the EDL protest are identified and prosecuted."
NUJ London photographers' branch secretary Jason Parkinson said Saturday's violence was the "latest in a long history of violence, threats and even fatwas issued against the press", which he claimed were designed to "intimidate and deter the media exposing the violent and racist behaviour of the far-right". "An attack on the press is an attack on press freedom and on our democracy," he added.
Before Saturday's protests the NUJ warned there could be violence against journalists following instances of "verbal threats, intimidation and physical violence" at previous events.
Press Gazette, 6 September 2011
Update:  See "Eye-witness backs up NUJ account of EDL attacks", Press Gazette, 7 September 2011