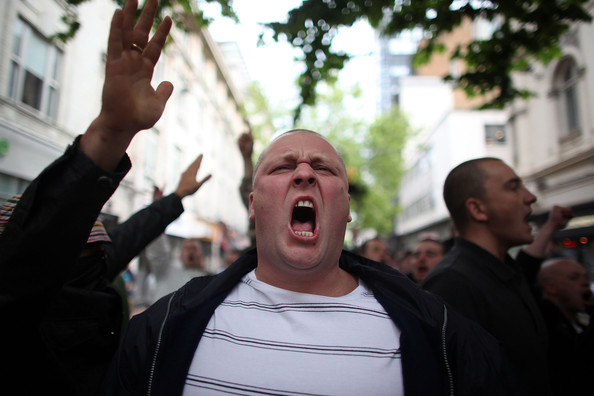 Officers were trying today to identify more people involved in violent scenes at a right-wing protest which resulted in dozens of arrests.
More than 30 people were arrested in Birmingham city centre yesterday when anti-fascist campaigners fought with supporters of a rally against Islamic fundamentalism by The English Defence League (EDL).
The disorder involved around 200 people and spilled on to the adjoining Bennetts Hill, a street lined with a number of pubs popular with shoppers. West Midlands Police said a group of more than 20 men were arrested on a bus in Digbeth High Street. Later a "significant" number of people were also detained from buses that left the Bennetts Hill area. They were taken into custody at stations across the city.
Earlier this week the force, along with Birmingham City Council, obtained an order from the Home Secretary banning protesters from the Bullring area of the city, under section 14a of the Public Order Act. Under the same legislation, Chief Constable Chris Sims passed an order restricting the protests to two locations – Lancaster Circus and Old Square.
But after meeting on Broad Street in the city's entertainment district, demonstrators proceeded to New Street, around half a mile away, and trouble ensued.
Mail on Sunday, 6 September 2009
---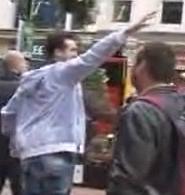 More than 30 arrests, countless innocent citizens terrorised, dozens of traders facing drastically reduced takings. The grim statistics of another visit to Birmingham by the English Defence League on a day the police promised would be "business as usual". Still, at least the democratic right to protest has been upheld. But for who?
Although the EDL's leaders insist the target of their venom is only Islamic extremism, that message clearly didn't get through to all their followers. Hence the banners saying "No More Mosques" being paraded around the city centre.
A leaflet handed out by the group deliberately blurred the line between "fundamentalist" and ordinary Muslims. It said, "Islam is a threat to us all. Don't let this oppressive religion go unchallenged. Time to make stand". Are these the words of a group which deserves to have an unprecedented police operation deployed to preserve their free speech?
David Hughes wrote on The Stirrer Forum, "About 50 to 60 EDL supporters attacked some Asian youths by throwing glasses and beer bottles at the top end of New St. The EDL supporters emerged out of an alleyway throwing abuse, beer bottles and glasses. They were aiming at Asian youths and bystanders who had gathered at the junction of Bennetts Hill and New St."
This account was confirmed by others in the vicinity, giving the lie to the claim that the EDL supporters were simply innocent protestors targeted by extremists from the other side of the political fence.
We must get away from this notion (forcibly promoted by the BBC and the police among others) that there are two equal groups of extremists at work here. It's simply not true.
There is a group – the English Defence League – who are abusing their right to free speech by coming into a diverse, multicultural city to stir up hatred, and they are, quite understandably, meeting resistance from those who feel under threat from their message. Should we condone this violent resistance? No. Can we understand it? Of course we can.
And if the police continue to peddle the line that there's nowt else they can do, all their hard work to promote community cohesion will come to nought.
Photos here.