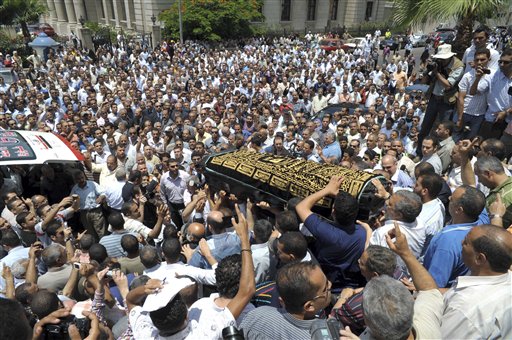 An official funeral has been held for a pregnant Egyptian woman stabbed to death as she prepared to give evidence in a German courtroom.
Several government representatives took part in the funeral for 32-year-old Marwa Sherbini in the northern city of Alexandria on Monday.
Sherbini was stabbed 18 times by a German man of Russian descent, formally identified only as Axel W, last week as she was about to give evidence against him as he appealed against his conviction for calling her a "terrorist" for her wearing the hijab.
Al Jazeera's Rawyeh Rageh, reporting from Alexandria, said that the case had attracted huge attention in Egypt. "The local council here in Alexandria, the victim's hometown, has decided to name a street after her and the press is describing her as the 'Hijab Martyr'," she said. "At least two protests are expected to take place in Alexandria and Cairo as this is being seen as a xenophobic and Islamophobic attack."
The German embassy in the Egyptian capital, Cairo, said that the attack was not a reflection of German attitudes towards Muslims. But Sulaiman Wilms, the head of communications at the European Muslim Union, said that the incident was at least partly representative of the situation faced by Muslims across the continent.
"It definitely reflects a certain spillover from certain elements of the public-media discourse, but it also reflects the general violence and degradation of order which we have within European societies in these times of global crisis," he told Al Jazeera from Cologne. "People are looking for victims and Muslims are sometimes seen as a viable option."