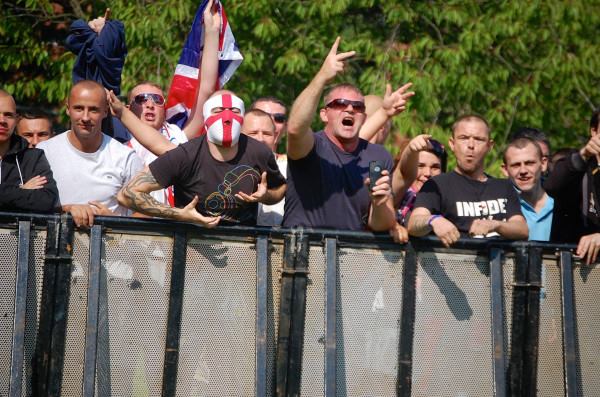 A protest by the English Defence League in Farnworth passed off without major incident, police said.
There were 12 arrests, 11 from the EDL and one from Unite Against Fascism following the demonstration in Farnworth Park yesterday.
Chief Superintendent John O'Hare of Greater Manchester Police, said: "Emotions always run high during protests of this nature but I would like to thank the communities of both Bolton and Farnworth for their patience and understanding and ensuring the event passed without incident."
There was a massive police presence as about 100 EDL supporters arrived on two double decker buses from Bradshawgate in Bolton town centre at 1.15pm. About 50 people took part in a counter-demonstration. Both sides were kept separated and directed into enclosed steel 'pens' inside the park, where they were able to demonstrate for an hour before dissipating.
Police were out in force at both Bradshawgate and Farnworth Park. Officers lined Bradshawgate where EDL members had gathered in pubs before they were taken to the park. Mounted officers, dog units, and the force's elite Tactical Aid Unit (TAU) were spread throughout the park and lined the entrance as the EDL were taken to a secure pen made of wire fencing. The 50 counter protestors were also taken to their own secure pen.
Both sides stood behind metal fencing with 30m of open space separating them, with two ranks of officers stood there along with mounted officers and dog handlers, while a number of officers also filmed and photographed protestors.
The demonstration lasted about an hour before the EDL were escorted back on to buses and the counter protestors were allowed to leave shortly after.